Mirjam Sombroek-van Doorn appointed as Professor Law and Health
Starting 1 October 2022, Mirjam Sombroek-van Doorn has been appointed as Professor Law and Health.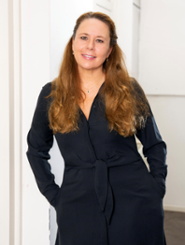 The broad educational assignment law and health clearly indicates the ambition to strengthen the collaboration between Leiden Law School, the Faculty of Medicine/LUMC, and other faculties. Mirjam Sombroek-van Doorn will combine her professorship of 0.6 FTE with membership of the Leiden Law School Faculty Board and the new portfolio internationalisation (0.4 FTE).

Dean Joanne van der Leun (LLS) is pleased with the appointment of Sombroek-van Doorn. 'This is a wonderful development that strengthens the University's strategy for more interfaculty collaboration.'

Mirjam Sombroek-van Doorn is looking forward to her professorship. 'Our University has long been interested in a collaboration between law and medicine, or rather between law and health. The starting point for legislation on patient rights, for instance, originated with the Leiden inaugural lecture of Professor J.F. Rang in 1973. Which will be exactly 50 years ago next year!
About Mirjam Sombroek-van Doorm
Mirjam Sombroek-Van Doorm studied French at Sorbonne University in Paris (1987). Subsequently, she studied law and French language and literature at Leiden University, graduating in 1993 (law) and 1996 (French language and literature).

In 2019, she was awarded a PhD on the subject: 'Medical confidentiality and the duty of care of the doctor in the legal relationship between doctor, child and parents'. In 2020, she was appointed as Associate Professor in Health Law (0.2 FTE).

Mirjam Sombroek has continued to combine her academic work with management positions at Leiden Law School and Leiden University. She has always had a special interest in the training of PhD students and in establishing international collaborations for the Faculty. She is currently Director of Leiden Law School and also a member of the Faculty Board where she is responsible for operational management (0.8 FTE). She combines this with her position as Associate Professor in Health Law (0.2 FTE).
She teaches on courses for the master's degree programme Rechtsgeleerdheid (Law), supervises students writing a thesis in the field of health law and child law, is involved in postgraduate training courses in these fields, supervises PhD candidates and participates on PhD committees.

She is a member of the author's team for the publication Tekst & Commentaar Gezondheidsrecht (Text and Commentary Health Law). In addition to these positions, she is a judge on the Regional Disciplinary Court for Healthcare in Amsterdam. On two occasions, she has been invited as an expert to join a standing committee of the Health Council of the Netherlands.

She has a special interest in combining her administrative/organisational work for the Faculty and University with her academic work as a lecturer and researcher. Recently, she has been particularly active in setting up collaborations between health law and child law within the Faculty, and between Leiden Law School and Leiden University Medical Center (LUMC). This latter collaboration has resulted in a successful application under the National Science Agenda (NWA) in 2022.

More information about Mirjam Sombroek-van Doorn