Inventors with a nose for technology
Amidst the lathes and welding machines of the Fine Mechanics Department, Emiel Wiegers is working concentratedly on a metal cylinder. He and his colleagues design and construct components for researchers' set-ups. 'We are a bunch of inventors who enjoy helping the researchers in our Faculty.'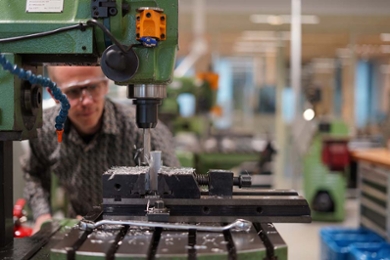 A lot of scientific research at the faculty requires technical constructions. These are often new ideas and designs that have never been made before. 'In many cases it is a holder, for example for a probe microscope or a heating element. Or sometimes a small experiment that can be made into a vacuum chamber. Any tangible thing that doesn't exist yet. You name it, we make it.'
Anyone from the faculty can come to the department for technical advice. 'Usually, it's PhD candidates who need help with a new research design. Then we sit down together to see what functionalities the structure needs. For example, should the objects be chemically resistant, thermally conductive or insulating?'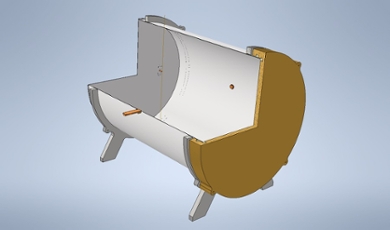 Draw and get to work
Once it is clear what exactly is needed for the research setup, Wiegers starts designing. He makes a 3D drawing in a computer programme based on sketches. 'The client can then see what it will look like. Then I often have to make some adjustments or insert extra functions.'
Once the researcher is satisfied, Wiegers makes work plans on paper and can get to work. 'I think that is the most fun part. I became an instrument maker to enjoy working with my hands. Making functional parts from a lump of material is amazing. Behind the machines, I am really happy.'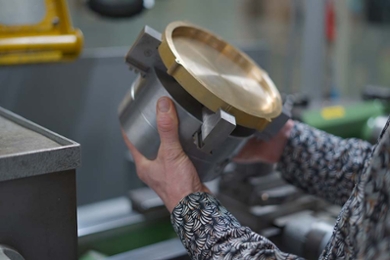 Large constructions in the measurement halls
The whole process from idea to completion often takes a long time. 'We can finish the smallest requests in half an hour, but some projects take up to three years to design, build and test. Sometimes researchers come up with additional functionalities during the design period. For example, a window in the vacuum chamber. In that case, I adjust the design and it takes a bit longer again.'
For very specialised or large set-ups, Wiegers and his colleagues outsource parts to other companies. 'The set-ups in the measurement halls, for example, are made of large pieces of stainless steel. We have these made externally; we then supervise the project. When we receive the parts, we collaborate on the whole setup. That goes from the aluminium frame to drilling holes and making adjustments to the concrete floor. Then we are a bit like the Bob the Builders of the Faculty.'
A hobby on a high-tech level
The FMD also works closely with the Faculty's electronics department. 'A research setup sometimes contains both electronic and mechanical parts. We then work together.' Wiegers enjoys taking on new challenges.
He has now worked in the department for 19 years and did the internship of the Leiden Instrument Maker School (LIS) and at the FMD. Yet he is still there every day with a big smile. 'I have never come to work with reluctance. We are a team of inventors with an interest in technology. I used to have model building as a hobby. This sometimes feels a bit like an out-of-control hobby at a high technical level.'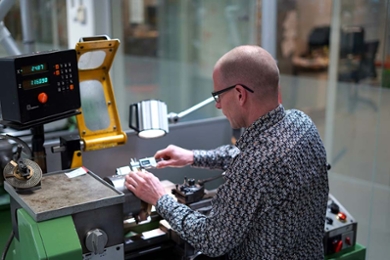 Up in the trees
So, does he also design all sorts of things at home? 'No,' Wiegers laughs. 'I am a handy man, but I don't remodel whole houses. I did follow a tree-climbing course and know a lot about chainsaws and shredders. So I can also use my love of technology for garden maintenance.'
Need technical help with your research?
You may always contact the Fine Mechanics Department. Send an email or walk by on the ground floor in the Gorlaeus Building. Wiegers and his colleagues are ready to help!