Feminist fatwas: How female Islamic scholars influence the religious landscape in Indonesia
If you have a question about the right way to live as a Muslim, to find the answer - the fatwa - you need to speak to an alim (plural ulama), an Islamic scholar. And it makes a big difference whether this is a woman or a man, PhD candidate Nor Ismah has discovered.
'The fatwas issued by women are clearly influenced by women's personal experiences,' Ismah explains. "Take, for example, the question: "Can I have a career?" A fatwa institute, generally dominated by male ulama, would give the following answer: "You may, as long as there is no question of temptation." A female alim would omit the element of temptation and would stress the equality between women and men. If a woman wants to have a career, she should do just that.'
'Fatwas by women are broader and are better founded.'
Better-founded fatwas
Another important difference is the form of the fatwa. According to Ismah, the fatwas by female ulama are often broader and better founded. 'Fatwas from an institute like the Ulama Council generally only cite other Islamic scholars without underpinning why the opinion of these scholars is correct. The fatwas by women ulama often cite the Koran, the Hadith and the Indonesian constitution, in addition to Islamic scholars. They also give background information about the question, an extensive analysis of the issue and, of course, the answer.'
Difficult to obtain recognition
Although Ismah's research shows that female ulama play an important role in public life in Indonesia, they and their fatwas are not automatically accepted. Ismah: 'It's very important for a female alim to be supported by her family and community because, like other women, as soon as she finishes her education, she is expected to marry and take care of the children at home.'
In addition, the fatwa institutes impose rules on female ulama and the way they issue fatwas. As an example, in 2017 the committee of the Indonesia Women's Ulama Congress (Kongres Ulama Perempun Indonesia) proposed that the term 'fatwa' should not be used and no fatwas should be issued that differ from the fatwas issued by official institutes.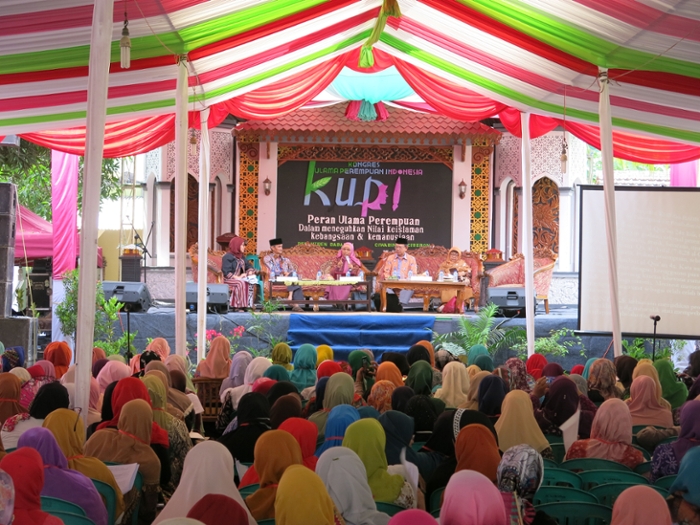 A fatwa against child marriages
As a way of being able to issue an alternative fatwa, a smart ploy was devised for one of the fatwas issued at the Indonesia Women's Ulama Congress: the fatwa about child marriages. Ismah: 'Normally, the question is: "What is the law regarding child marriages?" The answer to that question is: "It is permissible if the girl is already menstruating." With this answer, there is no need to take age into acount. As girls can start menstruating from the age of nine, this could mean that girls can marry when they are as young as nine.'
The women ulama wanted to combat this form of child abuse. Ismah: 'So, they asked a different question at the congress. Rather than "What is the law on child marriages?", they asked: "What is the law on child marriages if this has a negative impact on children?" The answer to this question is: "Child marriages are not permissible if they have a negative impact on children." This type of answer makes it much easier to combat child marriages, particularly as numerous studies have shown that they do have a negative effect on the children involved.'
Inspiring women
Ismah hopes with her research to show how important women ulama are for the religious landscape in Indonesia. 'When I studied to become an alim myself in 2014, I met so many inspiring women. But once they had graduated, I didn't see any of them in the official fatwa institutes, even though they do extremely important work at community level, including in the area of women's rights. I want my dissertation to raise awareness about these women.'
Nor Ismah will defend her thesis 'Women Issuing Fatwas: Female Islamic Scholars and Community-Based Authority in Java, Indonesia", on 12 January.' The livestream can be followed via this link.
Text: Sabine Waasdorp
Images: Nor Ismah