Digital Winter School: Time to brush up on those digital skills!
The 2023 Digital Humanities Pilot Project Symposium and Digital Winter School took place, 30 Jan – 2 Feb 2023.
Prof. Sjef Barbiers opened this year's symposium introducing the five digital projects funded last year by the LUCDH Small Grants scheme. Jenneke Van der Wal and Paz Gonzalez presented a novel use of Virtual Reality technology for the collection of linguistic data. Susana Valdez and Ana Guerberof-Arenas reported on the importance of creating equal access to health information to migrant communities living in the Netherlands using machine translation, and Nivja de Jong's research on measuring linguistic aspects of speaking promised exciting new research paths. More information on all the projects can be found at Research Projects
On each of the following mornings of the Digital Winter School it was time for researchers, teaching staff and students to learn about different software tools and then practice their newly acquired digital skills during a range of themed workshops.
Digging into the latest analysis and visualization tools
Dr. Susanne Friese (Director Qeludra B.V.), an expert in the field of qualitative research methods, was invited to demonstrate ATLAS.ti to workshop participants who were keen to become familiar with this software. ATLAS.ti can be used to analyse qualitative data of all kinds and employs AI and machine learning technology. Researchers who attended liked the practicality of the workshop commenting on the 'good overview of the software and its basic features', as well as the 'introduction on thematic coding'. After listening to Friese's introduction to good practice coding with ATLAS.ti, participants were already asking about smaller follow-up sessions, where they could test the software while having a specific project in mind.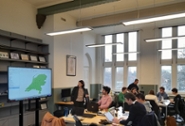 A popular workshop run by Dr. Jelena Prokic and PhD student Matthew Sung focused on the open source mapping software QGIS. Prokic first gave a basic introduction to GIS concepts (geographic information system) after which Sung gave a demonstration on how to create and format a map in QGIS. Participants liked that the workshop was 'part explanation and part trying it out yourself' with a focus on 'a few basic functionalities that people most likely will use'. There was plenty of opportunity for participants to get immediate advice whilst working on their QGIS map.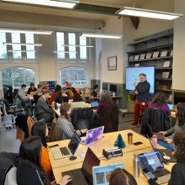 A world of 3D scanning and printing
Moving from 2D to 3D, the workshop on 3D scanning and printing run by Dr. Angus Mol and Janessa Vleghert (Education & Research Assistant) gave participants an insight into the long history of 3D image making. Mol began the workshop by giving a brief flavour of this history with early photogrammetry and stereoscopy to the basics of building up a 3D image from vertices (dots), edges (connecting dots), faces (joining edges), and surfaces (polygons).
3D printing is used for all sorts of things and in all sorts of fields; however, there is still a lot of untapped opportunity to work with 3D printing in the Humanities research and teaching. Furthermore, there are theoretical and ethical complexities surrounding 3D digitalization and printing, as Mol explained: 'the 3D creation or printing of heritage and other culturally sensitive objects, for example, those belonging to indigenous groups or other stakeholders, need to be carefully thought through with the communities involved'. Fortunately, Mol himself had no problem with giving permission to be scanned and printed in a mini version of himself that now joins the team of LUCDH mini self-models on show in the Digital Lab!
Calling all podcasters
Equal time was given to theory and as well as practice during the podcasting workshops, also led by Dr. Angus Mol. Being an experienced podcaster himself, Mol warned that to make something that can stand among the many high-quality podcasts out there can be a time consuming undertaking: 'Podcasting requires planning, balanced scripting, consistency, authenticity and a lot of editing time to make a solid product.' He continued: 'But if you account for all that, podcasting is a great way of reaching people anywhere in the world.'
It was then time for the participants to take to the mics themselves. They put on the headphones, practiced using the sound mixer, winced at the sound of their own voices, but in the end were very enthusiastic about the whole experience. As one participant said: 'Once you get used to hearing your own voice, recording is great fun.'
All in all, the Digital Winter School was a great success, we look forward to next year's edition!
Save the dates!
29 Jan - 2 Feb 2024 for the next round of workshops in the Digital Winter school. The Pilot project symposium will take place on 29 Jan. 2024