More pubs on campus? Here's why students and staff care
There should be more social meeting places on our campus. That's one of the outcomes of to the second brainstorming session on the strategic plan. On Tuesday, education and the campus took centre stage during the meeting in Corpus. Professor and programme director Miranda van Eck and student assessor Ava Bauer entered into a conversation with University Council member Victor van der Horst and Lecturer of the Year 2022 Emily Strange.
During a panel discussion, the foursome discussed the future of our education through various dilemmas. These included diversity, equity and inclusion, as well as a liveable campus. A topic that is high on the wish list of both students and staff. Van der Horst emphasised that students should feel at home on our campus. 'They spend a large part of their time here. That is why we need places where students can meet.'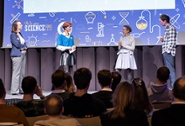 'Staff also want more places to get together and have a drink'
The science faculty is one of two faculties at Leiden University with its own pub. Something Van der Horst says we laugh about, but which is hugely important. Praeses Femke Spaargaren of study association Aesculapius confirms that. 'It is abundantly clear that there is a need for social places from the entire faculty.' With this, she refers to the word cloud that was displayed on the screen after the brainstorming session; many attendees indicated via a survey that the need for a pub is great. And that is something Emily Strange agrees: 'Not only students, but also staff want more places to get together and have a drink.'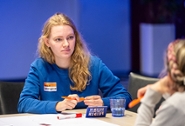 Connection makes a university stronger
That places to get together are important for students is beyond doubt, according to Sven Joziasse and Lucie Spek of Chemisch Dispuut Leiden. 'Because of covid, we have less connection with each other. That's a shame, because it makes us strong as a university,' says Sven. Lucie adds: 'We used to organise lunch lectures, but now that the break has been shortened to half an hour, it is difficult to facilitate anything. We need a solution for that. We welcome this meeting because participation is incredibly important.'
'Education and research are not separate topics, they actually go together.'
Besides the social aspect, the link between education and research was discussed. An important topic, according to Strange, who consciously chooses to spend only 40 per cent of her time teaching. 'I also want to be able to do research and bring that to my students. They are here because they are curious and passionate when it comes to science.
Getting more out of Bio Science Park
According to Van der Horst, even more can be extracted from the link between education and research than is currently being done. 'Our faculty is on one of the largest Bio Science parks in the world. If we implement it better in our programmes, we can get much more out of it. Students want to see what they can do after their studies. Show them what the Bio Science Park has to offer.'
Final brainstorming session on 7 March
The final brainstorming session is on Tuesday afternoon, 7 March. Haven't you signed up yet? Then do so here.