A look back: LRS meeting @Archaeology
On May 8, all research support professionals of the Leiden Research Support Network were welcomed at the Faculty of Archaeology for an inspiring event.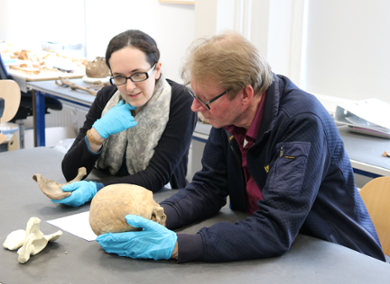 Exploring the laboratories
In a short talk by Research Policy Officer Jimmy Mans and Faculty Board member Amanda Henry, the attendees were introduced to the Faculty of Archaeology and its research and organisation.
After the official welcome, it was time to explore the Faculty's laboratories. The LRS visitors got a guided tour through the Archaeozoological Lab, the Archaeobotany Lab, and the Material Culture Lab. In the Osteoarchaeology Lab, the group learned how to determine the sex of individuals based on their skeletal remains.
The event was concluded with drinks and bites. Here all the attendees received a special booklet about the Faculty of Archaeology, published in collaboration with Archeologie Magazine.
A fun and educational event
The members of the Leiden Research Support Network conveyed their satisfaction with their visit to the Faculty of Archaeology, describing it as both educational and enjoyable. Jeannette, one of our visitors, said: 'A fun and educational event on research support at Archaeology, including a tour with presentations by enthusiastic researchers. I now know how to see the differences between the skeletons of a man and a woman!' Colleague Myrte agrees. 'This was an inspiring glimpse in the life of both researchers as well as research support colleagues. Thank you for the hospitality!'