The successful pilot with bring your own device exams at the Faculty of Archaeology
At Leiden University, more and more exams are being done digitally instead of on paper. Originally, Leiden University would provide the large quantities of laptops needed for these exams. With rising demand for digital exams, however, the limits of this system were in sight. Now the Faculty of Archaeology has run a pilot to let students bring their own device to take the exam with.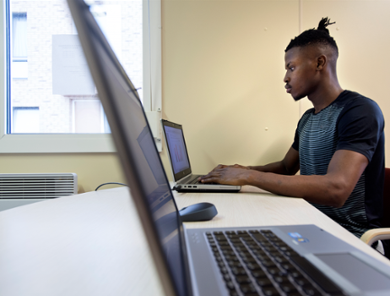 Digital solutions
Jasper Kanbier, ICT and Education Coordinator at the Faculty of Archaeology sketches the original situation. 'The larger digital exams would take place in the University Sports Centre, in the large sports hall where football and volleyball are normally played. Here you would see hundreds of university laptops, set up to take tests on.' Since there were only so many large halls and laptops available, Kanbier started to look for another way. 'We were faced with a choice: are we going back to paper exams, or are we solving this issue digitally? Finally opted for digital since the faculty did not wish to go back to paper.'
'We can solve the limiting factor of the number of laptops by letting students bring their own device,' he explains. 'You just come in with your own laptop, with the keyboard layout and language settings you are familiar with.'
Prevention
The university laptops have settings that prevent cheating, however. How would you prevent this when students bring their own device? 'Students need to install an extra software security layer on their device. What you want is a digital version of not leaving the room during the exam. This security layer makes sure that you cannot leave the test as long as it lasts.' This was tested extensively before it was deployed on a larger scale.
Facilitating students
Naturally, the students were involved in the testing aspects. 'The overall feeling is that they get it. Students are used to being in the digital world. The only issue we encountered was that their devices were not always adequate. That is something we facilitate in.' Kanbier had small groups of students test the exams on their own devices before rolling out the programme to the whole population. 'We communicated that they should test the software, and if they ran into problems, they could come to see me. 25 students did, and we could solve the issue for all of them.'
Not every student necessarily has a laptop, though. 'There is a small group of students with no laptop at all or with a significantly older laptop with technical issues. A larger group has a chromebook, which is not supported by the software. For all these students, we rent laptops so that they can still take their digital exam.'
Leading participant
The other faculties and the university's central organization are watching Kanbier's project with keen interest. 'Many faculties are facing similar capacity problems, so they are interested in the solutions we develop at the Faculty of Archaeology. Now that a University-wide pilot has been launched, our Faculty is a leading participant. We have done this before.'