How does the ethics committee work? Suzan Verberne gives an insight
How ethical is research involving humans and robots? And can research on artificial intelligence cause problems when it ends up in the wrong hands? In any research involving humans or their data, the ethics committee assesses where the issues are. Associate professor at LIACS Suzan Verberne chairs the committee. 'You get a lot of insight into all the work within the Faculty.'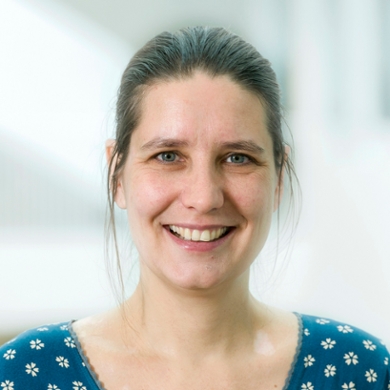 'All research that involves people, or where the outcomes could have a potentially negative impact, has ethical aspects,' says Verberne. 'Then it is important to consider whether what you are asking from them is reasonable. And whether the burden on the subject is not heavier than what is necessary for the study.' This is particularly important when the participants are children or a vulnerable target group. 'When it comes to medical subjects, there is often personal information involved. That is also more sensitive.'
Evaluating without an ethical background
The committee includes delegates from the different institutes. Verberne ended up there because she had a lot of experience using personal data. 'Part of my research is about analysing texts on discussion forums. I had a research project with which I wanted to see if we could learn from discussion groups of cancer patients what the side effects of their medication are and how they deal with it. This is a sensitive topic, of course, because cancer patients are a vulnerable group. And how they deal with side effects is personal information.'
You work from your own experience and also a bit from common sense.
When publishing that research, she had to deal with the ethical side of using that data. 'As a result, I already knew quite a lot about the use of personal data and its consequences.' So when the LIACS scientific director asked if she wanted to join the ethics committee, she agreed. 'It seemed like meaningful work. Although at first I wondered how to evaluate it. I am not trained as an ethicist. But you work from your own experience and also a bit from common sense. We look at it as objective outsiders and assess how ethical it is.'
Ethical approval a requirement in publications
Most of the applications at the science faculty are about science communication, programming education or research with robots and humans. Since the committee was established in 2019, no proposal has yet been rejected completely. 'However, we did have a few applications where adjustments were needed to the research plan.'
Some examples of research reviewed by the ethics committee in recent years.
How (in)accessible is the Dutch science museum Rijksmuseum Boerhaave for visually

impaired adults?

Are competitive AI agents or cooperative AI agents more likely to be perceived as human-like players?

What motivates citizens to publicly share the kind of information that can contribute to scientific research, and are these citizens aware of the potential use and scientific impact of their social media posts?
Ethical approval is also a requirement for publication in some scientific journals. 'Then it is better to do an ethics check prior to the research.' In studies where there are no human subjects and where the outcomes of the study do not pose a risk of misuse, no approval is needed. 'Such as in student projects with online questionnaires. If participation is completely voluntary and anonymous, the research does not need to be reviewed.'
You then have to think in advance how big the risk is and how to counter abuse.
Misuse of research outcomes
Nevertheless, it remains important to look thoroughly at any research plan. 'Also at how researchers handle data. How do they store it. Is it properly secured? And do they anonymise the data sufficiently?' Occasionally, they ask researchers to think about possible misuse of the results. 'For my ERC Consolidator Grant application, I had to write my own ethical evaluation. I wanted to make an algorithm for simulating information dissemination on social media. With this kind of thing, there is a danger that people will also use it to spread disinformation. You then have to think in advance how big the risk is and how to counter abuse.'
For Verberne, it is important to consciously consider the ethical aspects of research. 'It is nice to see that researchers are becoming more aware of it.' In addition, working at the ethics committee also gives her new insights. 'Normally you only see a small part of all the research within the faculty. It's nice to see what we all work on here.'