From Leiden to Japan: 'As a news correspondent, I really get to know the country'
It was a family friend who told him to quit his self-destructive work in IT: 'Go do something with your life!' So at the age of 23, Anoma van der Veere started the Japanese Studies degree programme in Leiden. After working in The Hague, Delft and Leiden, he is now based in Tokyo as a researcher and correspondent for the NOS broadcasting company.
'I grew up on the border between the Schilderswijk and Transvaalbuurt neighbourhoods in The Hague. That wasn't always easy, especially as an Asian boy', Van der Veere recalls. It was also during childhood that his interest in Japan was born, courtesy of family friend Fred, who picked him up from school every day. 'He introduced me to Japanese cinema, such as Seven Samurai by director Kurosawa and Akira, the first animated film I ever saw.'
'Go do something with your life!'
Despite those early experiences, Van der Veere eventually fell into work in the IT sector, which did not make him happy. 'Just before Fred died in 2011, he said to me: "Stop destroying yourself by doing work you don't enjoy or have any interest in at all. Go do something with your life!" And that's what I did.'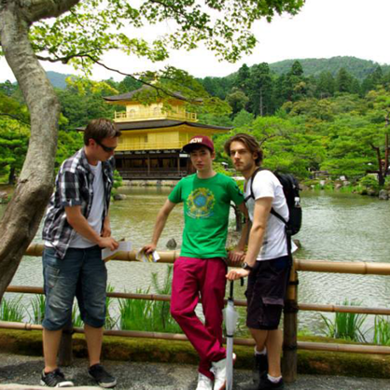 That turned out to be Japanese Studies in Leiden. It proved to be an eye-opener, and not only because of the unusual classmates, he says with a laugh. 'In the first few months, there were people who came to lectures in cosplay costumes. But the people who were only interested in manga and had some kind of fetish for Japan quickly dropped out.'
Better self-image through study
What remained was a close-knit group of people learning about Japan as a country with its own problems, diversity and ethnic minorities. 'In the Netherlands and in the West, we have a strong tendency to exoticise Japan. And as a man of partly Asian descent, I have always felt that: not really Dutch and not really Asian. Although I have no Japanese background, the study has helped my self-image. I have a better understanding of where I come from.'
Study association Tanuki was another discovery for Van der Veere. He became a member, then a board member and, in his third year, president. 'It's a place where I made friendships.'
Observing as president of study association Tanuki

Pictured in the Sweat Room
Fixer during the Olympic Games
Van der Veere moved to Japan for his PhD studies at Osaka University. That is also where the contact with NOS originated. During the 2021 Olympic Games in Tokyo, he moonlighted as a fixer and enjoyed working for correspondent Sjoerd den Daas for two months. When Japanese correspondent Kjeld Duits also quit, Van der Veere jumped into the deep end.
'I've been doing this work for a year and a half, and I'm only now discovering how diverse Japan really is.'
He produced stories about former Yakuza (Japanese mafia) members returning to society and about a nuclear bomb survivor in Hiroshima, and he went to Okinawa to cover a story about the island's many military bases. 'I've been doing this work for a year and a half, and I'm only now discovering how diverse Japan really is: from sea urchin fishers in Kushiro to Pride in Tokyo.'
On air from Okinawa / NOS

Reporting from the sumo ring for the Jeugdjournaal (Youth News) / NOS
Alongside his work as a journalist, he works one day a week for Leiden University, where he conducts research on public policy in Japan for the Leiden Asia Centre. For example, he is completing a project on digital health care in the country and will soon start research on the Japanese defence budget. 'My research teaches me where the gaps in public policy are, and I can produce stories about that as a correspondent.'
Japan or the Netherlands?
Although he enjoys his work as a correspondent, Japan will never be his home country; that is and will remain the Netherlands. 'I miss a certain spontaneity in everyday things. A simple joke with a server in a restaurant is quickly received with surprise in Japan. But what I miss most are my friends and family. At some point I'll return to the Netherlands; I'm sure of that.'
Text: Tim Senden
Main photo: Reporting from Pride in Tokyo / NOS