Organising a sustainable academic event at Archaeology: 'You will be surprised how many people actually enjoy it'
At Leiden University many staff members and students value making sustainable and responsible choices in their personal lives. Making these choices in our professional lives may feel a bit more complicated. But is that feeling justified? Archaeologists Gerrit Dusseldorp and Roos van Oosten share their recent experience in organising two sustainable conferences at the Faculty of Archaeology.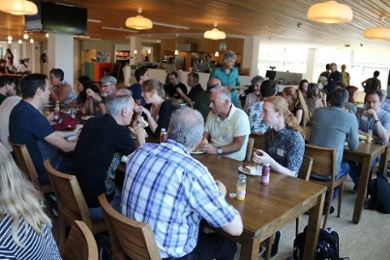 Logistics
There are two sides to organising an academic event: the logistics of the actual organisation, and the content. 'In terms of logistics,' Dusseldorp states, 'we have tried to organise sustainable drinks and snacks, as well as reusable Billie cups. And in regards to attendance, I made an effort to minimize air travel for attendees.'
Plant-based lunches were offered in Van Oosten's workshop. 'I did not consult anyone about this, it was good and tasty, and no one complained,' she adds. 'Many of the sustainable practices that we do not implement are simply due to not knowing how. There is no lack of willingness.'
Hybrid
Van Oosten's workshop was in Dutch, targeting a regional audience. However, she chose to livestream the event online as well. 'This attracted a larger and more diverse audience. It made it easier for early career people to attend, for example. But also for people who are not working at a research institute. Additionally it benefitted women, who may have caregiving responsibilities.' 60% of the people online were women, while the number of female attendees in the conference room was 30%.
Rock art
The other factor of organising an event is the actual content. 'My workshop was about the relationship between production of rock art and its preservation in the landscape,' Dusseldorp explains. 'With a specific focus on the well-being of both the producing communities as well as contemporary stakeholders.' The content of the event relates to sustainability and climate change in a two ways. 'Marike van Aerde showcased that even quite recent rock art can document far greater biodiversity in the past, while in many regions, rock art is currently also suffering from damage done by air pollution or mining activities.'
Dusseldorp has a clear aim with his workshop. 'I try to create awareness about the highly unsustainable way we organise our conferences and workshops. We fly too much, eat too much meat, and use single-use plastic cutlery. Moreover, it affects the archaeology that we work with as well. The problems are hitting close to home now.'
Showing the Dutch climate stripes
Both conferences took place on June 21, which is ShowYourStripes day. Van Oosten, active with Scientists for Future, invited them to make a poster exhibit about climate change. 'I noticed that the climate change stripes are not very well-known among archaeologists,' Van Oosten explains. 'This strikes me as odd. We have more knowledge of climate change in Paleolithic times, than we do in our contemporary world.' Dusseldorp arranged for a climate flag to be hoisted on June 21.
Sustainability report
Van Oosten wrote a sustainability report (in Dutch) that can assist people organising their own sustainable events. 'It is fun to try out innovative things, especially when these are sustainable.' Dusseldorp agrees. 'You will be surprised how many people actually enjoy and support it!'