Oncode Accelerator launched: patients at the centre of innovative cancer drug development
Providing each cancer patient with the right treatment remains a challenge. Oncode Accelerator aims to change this by innovating the way we develop cancer treatments, thus ensuring the patient is at the heart of the process. Leiden University, the LUMC and other partners will implement this new way of working today.
To discover, develop and bring a new drug to the market is a lengthy, high-risk and expensive process. Furthermore, it often turns out that a new treatment is only effective in a subset of the patient population it was developed for. Oncode Accelerator aims to address this by innovating the preclinical phase of therapy development. Friso Smit, co-executive director of Oncode Accelerator, says, 'In this early phase of development, we want to put the patient at the centre. We will do so through three innovation platforms: well-defined patient cohorts, organoid models derived from patients and predictive models based on artificial intelligence.'
The three Oncode Accelerator platforms consolidate existing expertise in the Netherlands in four types of cancer therapy (also known as the four workstreams): small molecules, biologics, cell and gene therapies, and therapeutic vaccines. This will make it easier to predict which patients will benefit from a new treatment.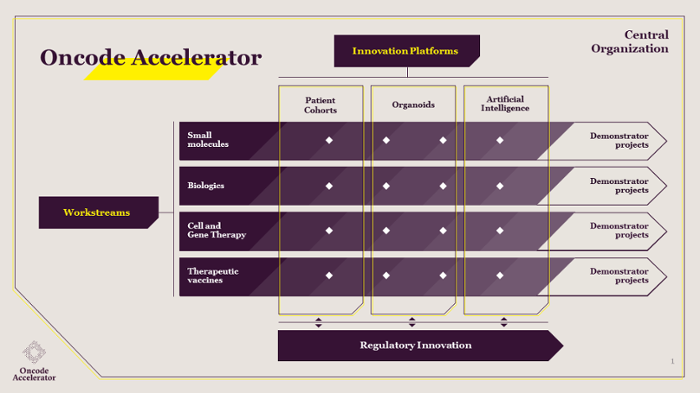 Small molecules
Within Oncode Accelerator Leiden University is coordinating one platform and one workstream. The workstream is the small molecules once, which focuses on translating fundamental discoveries from the oncology community into new anti-cancer drugs. To this end, a public-private ecosystem is being created that brings together the latest innovations and high-quality drug discovery technologies in an open drug discovery platform. This ecosystem aims to validate and de-risk relevant biological targets and candidate drugs at an early stage. As a result, more-promising drug candidates will be tested in costly clinical trials and fewer patients will be exposed to ineffective or dangerous drugs.
Artificial Intelligence
The platform that Leiden University is coordinating is the Artificial Intelligence one. Within this platform a bespoke toolkit will be developed that will enable the acceleration of the drug discovery process. Pivotal to this is that the platform will initially consist of PhD candidates performing fundamental research. In the second phase scientific programmers will translate this fundamental research into proof of concept. The AI tools will be created in close collaboration with academic and commercial partners to maximise their relevance. Subsequent application to clinically relevant datasets and collaboration with the workstreams and platforms will allow for the development and optimisation of novel therapies.
Impact on patients and the economy
Alongside better patient outcomes, Oncode Accelerator is expected to have a significant economic impact. The programme will make it possible to get innovative cancer treatments to patients faster. The resources made available to realise the ambition make the Netherlands very attractive to investors from home and abroad and to attracting top talent.
About Oncode Accelerator
Oncode Accelerator is a unique national collaboration coordinated by six partners: Leiden University, Leiden University Medical Center, Netherlands Cancer Institute, Princess Máxima Center for Pediatric Oncology, Utrecht University Medical Center and Oncode Accelerator Foundation. Oncode Accelerator enhances and accelerates the development of new cancer therapies by involving the patient earlier in the process. The programme is a collaboration between more than 30 public and private partners from the oncology ecosystem. It is co-funded by the National Growth Fund and works together with the Ministry of Economic Affairs and Climate Policy and the Ministry of Health, Welfare and Sport.