Opening of Academic Year on sustainability: optimism and criticism go hand in hand
The theme of the Opening of the Academy Year on 4 September was sustainability and how the university could take the lead as a change agent. How is it going about this and what else can it do? There was also room for a critical note.
Annetje Ottow, President of the Executive Board, began her opening speech by acknowledging the Extinction Rebellion demonstrators outside Pieterskerk. She had spoken to them just before the ceremony and that hadn't left her cold, she said. The protestors are deeply concerned about the climate and what is going on in the world. They want the university to stop collaborating with the fossil fuel industry. 'On the one hand, an unconditional no would seem the obvious choice', said Ottow. 'But on the other, a lot of research collaboration with the fossil fuel industry is into renewable energy. We want to discuss what to do about this.' She urged the students and staff to come along to the debate about this on 27 September.
Ottow believes the university can take the lead as a change agent for sustainability. 'But', she said, 'this will only be possible with the support of our local and international partners. Collaboration between academia and society is essential to tackling big challenges and I believe we can only secure a sustainable future if we do this on a global scale.'
'Don't throw in the towel'
Keynote speaker Jan Willem Erisman (Professor of Environmental Sustainability) did not mince his words. The climate problems that we are facing are huge. 'This summer we were once again confronted with the terrible news of extreme heat, flooding and hailstones the size of tennis balls pelting holidaymakers in Italy. Science is clear about the scale of climate change and the human influence on it. The extreme situations have increased at an astonishing pace in recent years and we are also seeing other effects, the import of which we do not yet know: reduced ice growth in Antarctica and oceans that are hotter than ever.' At the same time, he urged calm. 'It's not a good idea to panic or throw in the towel because we all have to work together at every level.'
Offer solutions
With its research and teaching, the university plays an important role in offering solutions. Erisman is the coordinator of the Liveable Planet interdisciplinary research programme. This programme brings together all the research at Leiden into sustainability and focuses on new, small-scale initiatives. These are often 'living labs', research projects at different locations with partners from society, such as Polderlab Vrouwe Venne, a 32-hectare polder. 'We are looking at sustainable food production by researching all aspects of different food production methods that could be used at higher water levels, such as rice cultivation, cranberries and horticultural crops. This has been set up in co-creation with citizens (Land van Ons), farmers and stakeholders from the chain, such as restaurants and shops. As part of our teaching, we are conducting four different studies with bachelor's and master's students.
Erisman ended with a message of hope: he is convinced that academia can play a leading role in shaping a liveable planet. 'We can offer perspectives and confidence in the future and can also help shape certain fundamental choices that we will have to make in the coming period. We can make it happen together.'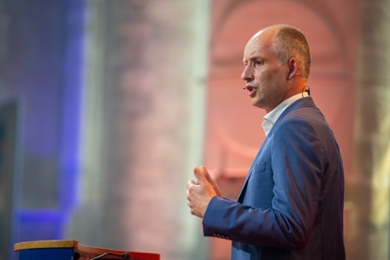 University with a smaller ecological footprint
Martijn Ridderbos, Vice-Chairman of the Executive Board, then spoke about the many ways in which the university is making its operations more sustainable. For instance, by making labs and work and study spaces more sustainable and reducing food waste in university cafés and restaurants. As a bulk user of laptops, smartphones and all sorts of software services, the university is also focusing on energy-efficient ICT. And even the Opening of the Academic Year served as an example. Thanks to Leiden University Green Office, the event was almost entirely climate neutral, Ridderbos said proudly.
At the same time, the university still has sustainable ambitions aplenty. It wants to reduce its ecological footprint and its CO2 emissions, from, for example, not only energy consumption, heating and cooling, but also travel to conferences and symposia. 'Operational management is like tap water', Ridderbos concluded. 'We assume that water will always come out of the tap. It's only when it doesn't that we spring into action. If we want to become more sustainable, this attitude has to change.' After his speech, Ridderbos spoke with Deputy Director of Real Estate Chris Suijker and Professor of Environmental Biology Peter van Bodegom about how the university can make its operations even more sustainable.
Martijn Ridderbos talking to Peter van Bodegom from Leiden Institute of Environmental Sciences and Chris Suijker from the Real Estate Directorate.

Practicum Musicae played a composition about rising sea levels.

Practicum Musicae played a composition about rising sea levels.

Rector magnificus Hester Bijl spoke about how sustainability is linked to all the teaching at the university.

Hester Bijl talking to students and alumni.
Student sustainability champions
After a musical interlude, students Allard de Graaf, Jiahui Plomp and Laura Hommes took to the stage to explain how they are championing sustainability within their degree programmes. In BuurtLab 070, for example, a project in which researchers and residents from The Hague work together on solutions for a sustainable lifestyle. Plomp started a lecture series on law and sustainability and Hommes and her fellow students developed a website about sustainability in The Hague.
Rector Magnificus Hester Bijl responded to the students' pitches by explaining how sustainability is linked to the university's teaching. The number of courses and programmes that address sustainability and related topics have greatly increased. And sustainability is a focus of the alliance between the three universities from the province of Zuid-Holland (Leiden-Delft-Erasmus Universities). Bijl emphasised that much still needs to be done, for instance by embedding the topic of sustainability in existing programmes. 'We therefore offer our students as many tools as possible to prepare them for the next phase in their lives', Bijl concluded, before a brief discussion with the three students.
Best lecturer of the year
Faye Speijers, Chair of the Leiden University Student Platform, announced the winner of the LUS Teaching Prize for the best lecturer of the year. Students can nominate their favourite lecturer for this annual prize. Speijers: 'We were looking for a lecturer who goes the extra mile for their students. A lecturer who is inspiring, teaches in a unique way and makes students feel they are truly seen.' These qualities put Kirsty Rolfe, who teaches 16th- and 17th-century literature, and Frank Takes, who teaches at the computer science department, in the top three, but the prize ultimately went to anatomy lecturer Paul Gobée.
According to Gobée's students, he is an enormously inspiring lecturer with a clear passion for his field. The variety of teaching methods he uses make for the best teaching a student could wish for. 'Incredible, thank you so much for this honour', said Gobée. He explained that after a 17-year peregrination, he had found his passion and for students who are unsure at times about what they want to do with their degree, he had the following message: 'If you find something that suits you, you will be happier and of more help to society.'
Critical note
Alongside speeches about what the university is doing for sustainability, there was also room for criticism. In a few short films, students and staff said they think that publishing the list of partnerships with the fossil fuel industry is not enough. The university should cut its ties with the fossil fuel industry, they said. And it should pick the low-hanging fruit, such as sustainable banking.
Ottow closed the ceremony by saying she hoped that everyone had gained plenty of inspiration. There was a lot of enthusiasm at the university for the topic of sustainability, she said. 'There is hope. This university will do all it can to make a difference.'
Watch again
With subtitles