Leiden Research Support
The Leiden Research Support programme has been working closely with research support staff and researchers to improve research support for researchers.
On this page, you can read about the initiatives and activities that have been launched and key changes that have been set in motion. Our activities are based on the three overarching objectives of the programme.
Aim of the programme
The aim of the programme is to provide the best possible support to individual researchers and research groups in applying for, managing and accounting for externally funded research projects.
Objective 1: Effective and efficient collaboration for research support
Within the programme, a network has been set up to support researchers in Leiden. For this purpose, university-wide research support communities have been set up, which, together with the (virtual) Research Support Offices at the faculties and institutes and the central expertise units, constitute the Leiden Research Support Network.
The introduction of the Leiden Research Support Network marks a significant change in the way we provide research support within our university. The Leiden Research Support Network is the university's research support network that assists Leiden researchers in all aspects of research. Within the network, research support staff from different domains share their knowledge and experience in communities and work together to address researchers' complex questions. There are communities of grant advisers, project controllers, research project managers, ethics committee secretaries, knowledge transfer advisers and data stewards. Each community has its own community manager. Read more about the network and communities here.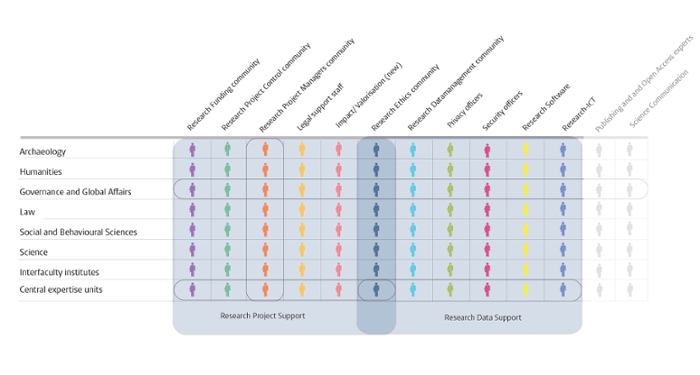 Vertical: communities of research support professionals working within a domain.
Horizontal: multidisciplinary collaboration of research support professionals.
Over the past few years, various bimonthly meetings, workshops and training sessions have been organised for and by research support professionals. For example, research support staff from the Leiden Research Support Network visited the faculties to see how they have organised their support, and during workshops and training sessions they worked on their professional and personal development. The Leiden Research Support Conference takes place every year: this is a day dedicated to getting to know each other (even better) and learning from each other. In addition to network-wide activities, workshops and knowledge-sharing sessions are also organised within the communities. You will find an overview of these activities on this page. In the network's knowledge base you can find an overview of events planned for the coming period.
To facilitate efficient collaboration, a digital collaboration environment has been developed in MS Teams and a knowledge base has been set up in MS SharePoint. All research support staff in the Leiden Research Support Network have access to this online environment. This environment facilitates communication both within and across support domains. Each community has its own channel, where ongoing work is regularly coordinated, knowledge is shared and developments in the field are discussed. News and events from external partners are also shared here so that support staff can keep up to date with the latest developments.
One of the major changes introduced within the programme is that first-line contact persons for researchers are now located at institute or faculty level. It is vital here that they cooperate effectively with the second line. (Virtual) Research Support Offices bring together colleagues from different domains within a faculty or institute to support researchers. This change is being implemented gradually and at different speeds. Many institutes and faculties have already adopted this approach or are in the process of doing so.
As part of the programme, the Research Support Portal has been developed as a tool to help researchers find information on preparing, carrying out and completing externally funded research projects. This portal is geared towards the needs of researchers. It contains valuable information for every stage of the research process, from the beginning to the very end. For example, there are tips on how to find funding, informationation on ethical considerations in research, data management and intellectual property.
Objective 2: Develop and secure funding opportunities
Demand for support in applying for research funding is on the rise. This is partly due to external developments at research funders that are making the application process more complex. Researchers are under greater pressure due to increasing demand to obtain funding, more extensive pre-conditions and changing policy objectives. The LRS programme has focused on improving support by developing expertise, new working methods and adding capacity. This has enabled steps to be taken to support grant applications more effectively from within the Research Funding community. Some of the benefits of the programme are highlighted below.
The Research Funding Community is crucial to the development of funding opportunities. This is a network of grant advisers consisting of first-line (grant advisers at the faculties and institutes) and second-line (the SAZ grant development team) research support staff who provide advice and guidance on research applications. In addition to having its own dedicated channel in the network's Teams environment, the community has set up a knowledge base where research support staff and researchers can find relevant materials and information on research support, news and events. For more information about the Research Funding community, please contact community manager Anke Klerkx.

One of the most significant changes that has been introduced is that the first point of contact for grant advice is now the first line. The first line therefore plays a key role as the first point of contact for researchers and is based at the institute or faculty. Effective cooperation between the first and second lines within the Research Funding Community is critical to providing the best possible support to researchers.
Another benefit is that workflows have been established to support the application process. These provide a clear picture of the different process steps per grant and the complexity of some applications. It is now also much easier to see which support staff are involved in which steps.
We have increased our capacity for and commitment to supporting collaborative projects and developing new expertise, in both managing the application process and facilitating networking and consortium development. In the pilot for integrated support for interdisciplinary collaborative projects, additional staffing was made available for hands-on support in preparing complex funding applications for interdisciplinary collaborative projects with societal partners (specifically NWA-ORC, Horizon Europe and Gravity).
Objective 3: Comply with laws, regulations, codes of conduct and funder requirements
The requirements and rules set by legislators, regulators and funders are becoming more stringent and complex. Researchers and support staff face increasing workloads. Within the programme, efforts have been made to improve support for the financial project management of externally funded research projects.
The programme has worked to strengthen the support role of project controllers in externally funded research projects in the pre-award and post-award phases. The procedure for preparing project budgets has been improved and the process for requesting approval has been streamlined. An interactive flowchart has been developed to help researchers identify the steps required for their research-related contracts and grant documents to be approved and signed.
Within the Research Project Control Community, project controllers share knowledge and experience and organise workshops and training sessions. The community knowledge base provides researchers and support staff with access to documents relevant to the financial management of research projects, such as manuals and instructions. For more information, please contact community manager Petra Kamer.
A budget module for externally funded research projects has been developed in collaboration with project controllers from various faculties. Since September 2021, this module has been routinely used by support staff in the faculties and institutes. The module includes current rates and a summary of the project budget for researchers.
The aim of the Research Data Management programme was to enable researchers to handle their research data responsibly, while complying with laws and regulations, codes of conduct and the requirements of funders. Some of the programme's activities are continued by the Leiden Digital Competence Centre (a cluster within the Leiden Research Support Network). This local Digital Competence Centre is being set up to bring together all stakeholders within the university that play a role in research data support.
The university has registered with various databases and systems required for submitting applications. This is especially important when researchers want to apply for international funding. These registrations have become increasingly complex. The Back Office Registrations has therefore been set up to manage registrations and to assist research support staff with information and support on registrations, tender documents, signatures, etc. Research support staff may contact the Back Office Registrations at registrations@bb.leidenuniv.nl. The back office is coordinated by Zoë Elstrodt.