Script: Using visuals
The next step in preparation of your studio recording is to create a PowerPoint where bullet points, images, animations and videos go hand in hand with your storyline. The image below gives an insight in the template used at Leiden University when recording a knowledge clip in the studio.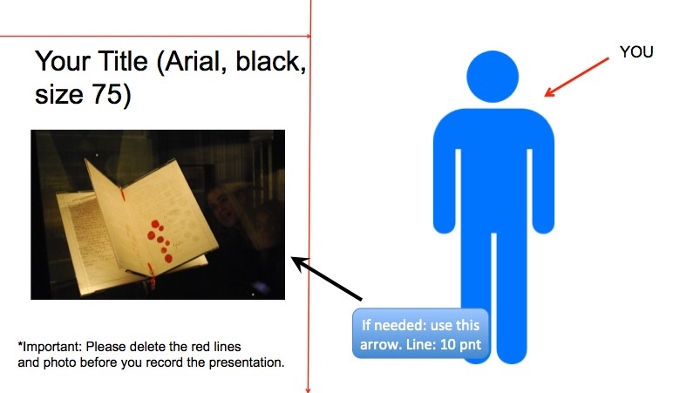 IMPORTANT: this PowerPoint template is an example and can vary from faculty to faculty (ask your video coordinator which template to use).
In order to make images appear sharp on screen you need images with a large file size.
Still images (to be used fullscreen) should ideally be:
1920 x 1080 pixels (the image should at least be higher than 1MB).

As for video: the recommended pixel size is the same (though 1440 x 1080 is also acceptable). The duration of the video should be at least 5 seconds long.
Pictures used in the video must be copyright free. This is important as educational videos are often published to be freely accessible online. See the Copyright section for more information about this.
According to research, a lot of presentations are confusing and ineffective. Psychologists Mayer and Moreno (2003) did research on how to effectively present images and words. In short, they propose the following principles:
We strongly encourage you to watch this video about Mayer's research on some of the principles of multimedia training and how to put them into practice.

Sources
Mayer, R. E., & Moreno, R. (2003). Nine ways to reduce cognitive load in Multimedia learning, Educational psychologist, 38(1), 43-52.