Changing your online profile page
The information on your profile page is generated by different underlying systems. You can (request to) change or delete it. Please note that it may take some time before the adjustments are shown.
What you can change yourself

Mention your first name instead of your initials
Log in to Remote Workplace
Go to SAP Self Service
Click on Eigen gegevens, and then on the pencil next to your name and date of birth
Enter your first name in the Roepnaam entry field
Press Opslaan en terug to confirm
Reporting ancillary activities
Log in to Remote Workplace
Go to SAP Self Service
Click on Ancillary activities, and then on the button Report activity
Fill in the form
Press submit to report the ancillary activity
Reporting publications and scientific results
Go to LUCRIS
Click on Add new (above right) and then Publications
Follow the steps in the manual
Via the LUCRIS-website connection, your publications are generated and shown under the publication tab
What can you have adjusted via the Service Portal?
Do you want to change your job title, department, telephone number or room number? You can do this via the Service Portal. How do you report a mutation?
Go to the Service Portal
Click on 'my staff movements'
Click on 'new application' at the bottom right

Choose 'modification of an existing registration' and fill in the requested information
What the PSSC can change for you
Only if you are an external employee, the PSSC can change your contact and address details for you
In exceptional cases, after consultation with your manager, removal of contact and address details.
Please contact the PSSC Service Point.
What your faculty or unit's web editor can change for you
Add or change your profile picture
Link research descriptions
Add a staff category
Link to your department or institute, so that your profile is shown on the overview page of the department where you work
To hide your profile from external search engines. Employees will still be able to find your profile via the website search engine
Please contact your faculty or unit's web editor.
When new employees join, a profile page is created on the university's website. Profile pages of employees with a scientific position can (in addition to contact details) also show publications, a profile text and, if possible, related research, news, events, PhD candidates and more.
New employees receive a request from their web editors to fill in the change form.
This form can also be used to submit a request for changes/additions/new profile photo.
Data 2023
Final dates will be announced via the Staff website.
2023
Delivery
Within one month, the image editor will upload the photo in the university image database DAM. You will receive an email once this is done.
And after the delivery
Are you happy?
Profile Service Institute of Psychology
The Institute of Psychology wants to help employees present themselves well. To make this as easy as possible, there is the new profile service that supports you in creating or updating your profile.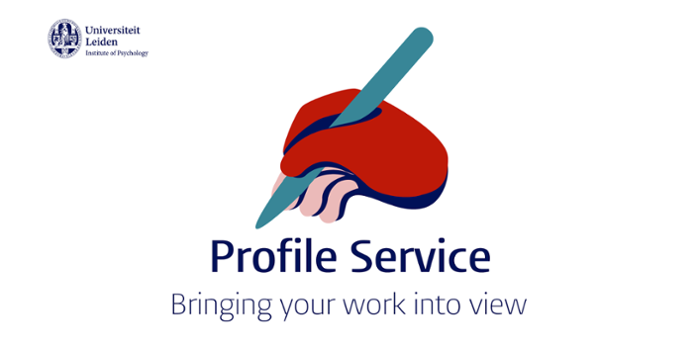 Benefits of a good profile as a researcher and/or teacher
As a researcher and/or teacher, it is valuable to make your work visible. It not only ensures that your colleagues inside and outside Leiden University are aware of your work. You also strengthen cooperation and exchange between research areas.
With an up to date and clear science profile....
your own work (papers, oration, books) is well displayed;

you are more approachable to students and colleagues;

your fellow researchers are better informed about your research;

cooperation and exchange between research and education areas is encouraged;

you have a university calling card for a grant application;

journalists find you for relevant interviews or media appearances;

you increase the chance of social impact of your research.
The benefits of a good profile as a supporter
Even if you are not doing research at the university, but belong to the support staff, a comprehensive profile has advantages.
For example, a clear profile ensures that...
your colleagues are better informed about your duties and responsibilities;

you get opportunities more quickly that match your experience and expertise;

your colleagues have more insight into your talents and skills.
Need help with editing your profile?
For researchers at the Institute of Psychology, someone is available to help you think about your profile. What information about you and your work is relevant? How do you want your story presented? And how do you portray your recent media appearances?
How do we help you?
We visit you in Teams or in your room.

We show you what is possible and what is the best way for you.

We think with you about the content of your profile.

We edit and translate your text for you.

And, of course, we adapt your profile on the website.
Make an appointment!
All you have to do is fill in your function, your preferred date and location in the form. You will receive a confirmation in your mail and a reminder the day before your appointment.You can easily make an appointment online here.
Templates for preparation
If you would like to get a concrete idea of how an online profile is structured, you can view templates below that cover all categories. Using the questions in the template, you can also prepare for the profile interview.
Template for researchers and teachers
Template for support staff
Inspiration
Of course, you can also look at colleagues' online profiles for inspiration.
Prefer to edit your profile yourself?
If you would like to modify your profile yourself, such as your CV or a description of your research, you can fill out this form.
It is possible to save the form in between and continue later. After you submit the form, our webteam will update your profile as soon as possible.
If you only have minor changes, such as your name or job title, you can quickly make your changes here.
For questions you can always email our web editors.