Jasper's day
On January 1st Jasper Knoester started as our new dean. How is he doing? What exactly does he do? And what does his day look like? In each newsletter Jasper gives a peek into his life as dean.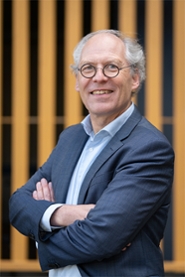 Wednesday 19 January
'After working the first two days of this week in Leiden, today was a day of online meetings from home. I still live in Groningen with my family. We will move to The Hague this summer. Working from home meant I had a relatively quiet day, as I didn't have to make a long train journey early in the morning or late in the evening.
The day started at 9 am with an online meeting with the board of RISE, the network of female scientists in the faculty. Irene Groot, Martina Vijver and Miranda van Eck enthusiastically told me about their research and teaching first. Then we talked about gender diversity. What's the situation in our faculty and what challenges are we facing? RISE wants to offer a platform within the Faculty of Science where people can talk to each other and feel heard. Workshops and lunches are being organised where anyone is welcome. I like the way RISE connects people in our faculty. And how the platform not only contributes to more gender diversity, but also to a safer, more inclusive work environment.
'I want to work together on a faculty where everyone feels safe and can work comfortably'
An inclusive work environment. An expression you hear so much these days and one that is quickly reduced to just words most of the time. But within an international community like our faculty, it's paramount to pay close attention to this. I will try my very best to support inclusivity in our faculty, to formulate ambitious policies and to make sure they will be successfully implemented. This is high on the agenda of the Faculty Board.
After a number of interesting introductory talks and a nice informal meeting with the Faculty Board, the online day came to an end. In the evening I focused on preparing for the next day and helping both our children with their homework. That way the father and teacher in me also got his due.'