Jasper's day
Jasper Knoester is the dean of the Faculty of Science. How is he doing, what exactly does he do and what does his day look like? In each newsletter, Jasper gives an insight into his life.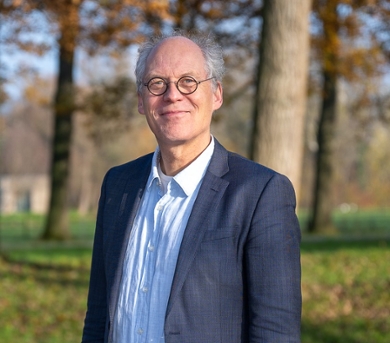 Saturday 15 April
'Saturday, normally a day when I stand along a hockey field and in a basketball hall, but today will be a different sport. The Leiden Science Run is taking place. It is the first time since the Covid pandemic outbreak that this relay race for UAF (Foundation for Refugee Students) is being organised again on and around our campus. Around 10 o'clock, I drive to Leiden. The sun is shining, a beautiful day for this event.
On campus, I soon meet Marjolein van Schoonhoven, who organises this event with her team and many helpers. My task today is clear and a lot of fun. I won't be running along, unfortunately. During my study and PhD days, I ran many races myself, but my knees and ankles have not liked running for several years now. Instead, at the finish line, I am going to put a medal on the runners and take care of the starting gun and prize-giving ceremony with our rector Hester Bijl.
Before the start, I walk around the courtyard of the Gorlaeus Building, where registration takes place and the runners warm up their muscles. It is a pleasant crowd and it is already getting warm. There are close to 70 participating teams, each with four runners. I strike up a conversation left and right. Many participants from our faculty, but there are also teams from other faculties and from companies at the Leiden Bioscience Park. The atmosphere is cheerful, there is a lot of laughter, everyone is looking forward to the start.
A little after noon, I blow the starting horn together with Hester in front of the Snellius Building and the first runners take off. I get the first dozen medals hung around my arm and wait with other colleagues for the first runners to complete the five-kilometre lap. Carel Stolker, the previous rector of the university, passes by on his racing bike and we have time for a chat. He has done this very same job several times before the pandemic and he visibly enjoys the atmosphere. After about 20 minutes, the first runner enters and hands over the virtual baton to the second of his team. I hand out my first medal and indicate the runners where to get water and bananas. I will repeat this action many times this afternoon.
Handing out medals to everyone is still quite a challenge. Some runners are so jaded that they pay little attention to us and prefer to leave the course immediately. Others tend to run very fast, so I have to chase after them. But most people respond very happily and are also happy to take pictures. From head to tail, it is a joyous celebration and a pleasure to witness. Kudos to the organisers and all the helpers! After 1 hour and 19 minutes, the first team crosses the finish line, team LUMC Gorter MRI. A great finishing time. The last team completes the run about an hour later; the last runner is accompanied with loud applause in the closing metres.
Everyone who ran five kilometres for charity today is a winner
At half past two is the awards ceremony. As far as I am concerned, everyone who ran five kilometres for charity today is a winner, but of course a run also involves best times. The fastest runners receive a trophy and flowers. The winning LUMC team is also honoured and finally team Biosana Pharma that raised the most money for charity, 900 euros! Finally, UAF director Fatimazhra Belhirch accepts the symbolic cheque for 9291.80 euros. We will definitely do this again next year and then we will go for an even higher amount and, of course, for a winning team from our own faculty!
Around 16 o'clock I am home. After all the sport around me, I feel the need to exercise myself. At the sports centre, I swim eighty laps, which at least gives me the feeling of having done something. After dinner, games are put on the table. In line with the day, we enjoy the game called Camel Cup, an always unpredictable race of camels through the desert. As with the Leiden Science Run, winning is secondary to having fun.'