Internationalisation enriches: malaria research in Indonesia and lectures by professors from Nigeria
Georgia, Ukraine, Palestine, Tunisia, Indonesia, Singapore, Australia, Ethiopia, Tanzania, Nigeria, Suriname and Brazil: Leiden University has secured an impressive 12 European exchange grants. This is good news for students, lecturers and researchers from home and abroad.
With its ICM grant (International Credit Mobility) the EU stresses the importance of internationalisation in research and teaching, say project coordinators Suze Kruisheer from the LUMC and David Ehrhardt from Leiden University College in The Hague. Both have submitted successful applications and highlight the importance of international exchanges.
Exchanges all around the world
The LUMC has been coordinating exchange projects (mainly student exchanges) with three Indonesian universities for some years already. Now there will also be projects with Ethiopia, Tanzania and Brazil. Ehrhardt previously led an ICM project in which Nigerian professors came to the Netherlands.
'My students felt as though they'd spent a month in Nigeria' - David Ehrhardt
'It was during the Nigerian presidential elections too that two Nigerian colleagues came to my lecture hall in The Hague. It was like a fantastic double act', says Ehrhardt with a smile on his face. 'The dynamics in the class completely changed. I really do think that my students felt as though they'd spent a month in Nigeria. They not only learned a lot, but I think they also gained a different idea of what it is to be a researcher. They would never have seen that if I had taught them on my own.'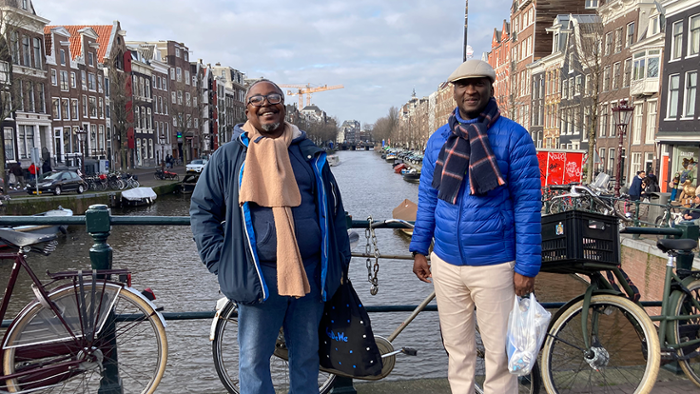 With the new exchange project, Ehrhardt mainly wants there to be more focus on the development and supervision of young researchers at Nigerian universities. 'I've seen there is a great demand among Nigerian academics for supervision methods for their PhD candidates and young researchers, so really at the interface between research and teaching.' He hopes to be able to offer training courses from Leiden together with other lecturers from Nigeria.
Knowledge for future doctors
The LUMC's projects are largely for student and researcher exchanges, says Kruisheer. Dutch medical and biomedical sciences students are going to do field research into infectious diseases such as malaria in Indonesia. The EU money will support them there. And a mother and child care project is being started in Ethiopia. 'Young researchers will become familiar with complications that are rare in the Netherlands but prevalent in Ethiopia. This is valuable knowledge for our future doctors.'
'The big health problems of our time do not stop at the border. Health research is global by definition' - Suze Kruisheer
The ICM exchange projects will contribute to the further internationalisation of medicine, and that is needed, says Kruisheer. 'The big health problems of our time do not stop at the border. Take the coronavirus pandemic or the tiger mosquito, which transmits dengue and is coming this way with climate change. Health research is global by definition. It's only logical to invest in internationalising the training of the people who will do that research.'
International classrooms
But the exchanges are good for more than knowledge acquisition alone, says Kruisheer. They also help create real international classrooms. 'Our medicine degree is mainly focused on Dutch students. We'll soon have students from Indonesia, Tanzania, Ethiopia and Brazil in our lecture halls, which will enable our students to develop their intercultural competencies. There's a really different perspective on healthcare in other cultures. They'll bring this experience to their working life and will need it too because you find all these cultures at a hospital.'
Taking measurements at a school on the island of Flores

Dutch and Indonesian medical students work together

Students conduct research in a lab in Makassar

Dutch and Tanzanian students work together in a real international classroom
International reputation
Ehrhardt too stresses the importance of internationalisation and Leiden's reputation here. 'I hear from Nigerian colleagues that they'd like to spend some time working in Europe. That is really difficult to organise in a country like Nigeria. That we as Leiden University manage to do so is good for our reputation in that country's academic world. And we also have the African Studies Centre in Leiden.'
A good reputation is not a goal in itself, says Ehrhardt. But it helps with the research and teaching. 'Mobility, in both directions, ensures that collaboration is more equal. It creates opportunities for people and makes for better projects, not just more substantive but more ethical too. For instance, co-creating methods that improve the supervision of PhD candidates. You can only do that if you also see and get to know each other.'
Not enough teaching in Dutch?
Neither coordinator agrees with the government's criticism that too much English is spoken at Dutch universities. 'All the teaching at the LUMC is in Dutch. We actually want to use the ICM grant to foster internationalisation', says Kruisheer. Ehrhardt: 'If you ask me, we as a university can quite easily be bilingual. It could be much more complicated. Take Nigeria: as many as 250 languages are spoken there. That's what I call difficult to choose.'
Text: Tim Senden