Horizon Europe funding for eLaw on project BIAS to mitigate diversity biases in the Labor Market
Dr Eduard Fosch-Villaronga, Assistant Professor at eLaw - Center for Law and Digital Technologies, and 8 partners have been awarded the project 'BIAS: Mitigating Diversity Biases in the Labour Market', a large €4.7M Horizon Europe grant.
The Horizon Europe programme has just funded BIAS: Mitigating Diversity Biases in the Labour Market. The project is funded by Horizon Europe's Pillar II (Global Challenges & European Industrial Competitiveness), Cluster 4 (Digital, Industry & Space) and will run from 2022–2026.
The project will investigate the use of Artificial Intelligence in the labour market. In particular, the project will explore how AI-based systems potentially reproduce biases in hiring and promoting processes based on personal characteristics. In an employment context, this can, for example, involve analysing text created by an employee or recruitment candidate to assist management in deciding to invite a candidate for an interview, to training and employee engagement, or to monitor for infractions that could lead to disciplinary proceedings.
We will identify and mitigate biases in applications used in a Human Resources Management (HRM) context at the Horizon Europe BIAS project. In particular, the project will:
Investigate how current AI systems are biased from a technical perspective and propose solutions to make them less biased.

Conduct extensive ethnographic fieldwork concerning the lived experiences of employees, Human Resource Managers, and technology developers and channel them towards improving these algorithms.

Provide substantial training for HR managers and technology developers regarding the responsible development and implementation of AI.
The project will be coordinated by Dr Roger A. Søraa from the Department of Interdisciplinary Studies of Culture at the Humanities Faculty at the Norwegian University of Science and Technology, who will be accompanied by a consortium coming from around Europe, including Leiden University, but also Bern University of Applied Sciences, University of Iceland, Smart Venice, LOBA, Crowd Helix, Digiotouch, and Fairplay.
Dr Eduard Fosch-Villaronga will be the project leader at Leiden University. eLaw - Center for Law and Digital Technologies will be in charge of assessing the trustworthiness levels of the AI system developed by the consortium and to survey the workers' attitudes towards diversity biases in labor automation around Europe.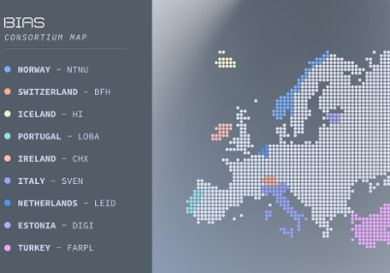 This project contributes to advancing the knowledge in the field of Diversity & AI, which Dr Eduard Fosch-Villaronga started at eLaw - Center for Law and Digital Technologies some time ago. Within that topic, Eduard also chairs the Gendering Algorithms initiative at Leiden University, a project aiming to explore the functioning, effects and governance policies of AI-based gender classification systems.