New front office of Leiden University in Jakarta opened
Last July, Robbert Dijkgraaf, Minister of Education, Culture and Science and Annetje Ottow, President of Leiden University's Executive Board, opened the new front office of the Leiden University office in Jakarta. The office - located on the grounds of the Dutch embassy - has a dual role. Firstly, it functions as a support centre for the Leiden University Libraries (UBL), where local staff purchase, catalogue and sometimes digitise new publications before they are sent to Leiden. In addition, the office also represents Leiden University in Indonesia, collaborates with our Indonesian partners and supports both student recruitment and Leiden researchers.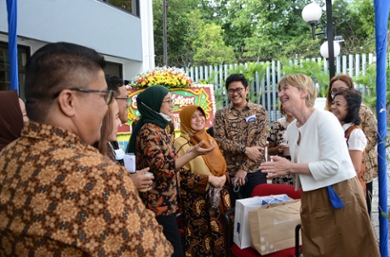 After a thorough renovation, the office now has a representative reception room and also houses our local library, which was previously housed in the Erasmushuis, the Dutch cultural center on the embassy grounds.
At the opening, director Marrik Bellen gave a short presentation about the activities of the office. After the presentation, Annetje Ottow signed an agreement with the director of the National Archives of Indonesia for cooperation in the field of staff training, digitisation of collections and the joint submission of Memory of the World nominations to UNESCO. The official opening of the front office with the signing of a plaque by Robbert Dijkgraaf and Annetje Ottow concluded the festivities.
The Indonesian media paid a lot of attention to the opening: "With the inauguration of the KITLV-Jakarta Front Office and the Leiden University Office in Indonesia, now visitors can visit to obtain information about Leiden University Library collections, several collections of resources stored at KITLV-Jakarta, and also about Leiden University and the study programs offered." (Kaldera News).