Introducing: Alistair Kefford and Adrian Rogstad
Alistair Kefford and Adrian Rogstad are both Assistant Professor at the Institute for History since August 2020. They introduce themselves below.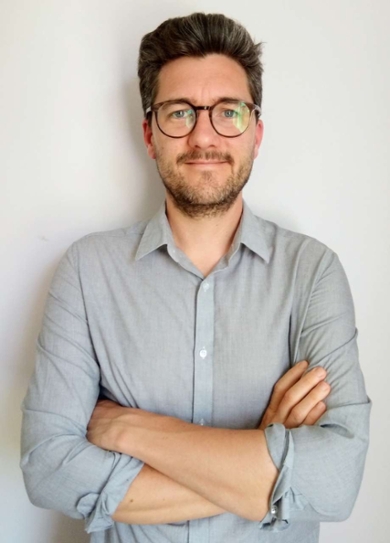 Alistair Kefford
Starting a new job in a new country can be a complicated business just now. I joined Leiden's Institute for History in August, relocating here from the UK in the midst of a summer of lockdowns and travel restrictions. Throwing myself into a new culture, a new country, and a new academic system has been somewhat surreal after so many months of 2020 where I spent holed up at home in lockdown. In many ways it's been a breath of invigorating fresh air. There is lots to learn of course, but lots of exciting prospects opening up at the same time.
I joined Leiden from the Centre for Urban History at the University of Leicester, where I had a long and luxurious period of working as a research fellow for almost three years. Prior to that I was a Lecturer in the History Department at the University of Manchester. After a long while away from teaching it has been nice to get stuck back into the day-to-day business of semesters and seminars here at Leiden. I have even managed to negotiate the digital classroom without too much difficulty, although it is nice that we also have some face-to-face sessions with students. I am afraid that having taught groups of students in classrooms so much pre-pandemic, one of the things I've found most challenging (much more than all the digital platforms and webcam communication) is the socially distanced classroom. As an urban historian – with a keen interest in the social dynamics of space – I find that the strictly regimented, individually spaced corona classroom can be a bit atomised and anti-social. Space matters, and can play such a positive role in stimulating interaction and exchanges. I am always impressed and encouraged, though, by the students' adaptability in what must be such a frustrating time for many young people.
Pandemics aside, I am delighted to be joining the Urban Studies programme here at Leiden, where a lot of my teaching is focused. The Urban Studies programme is a lovely fit for me and my research, which sits somewhere between modern history and contemporary urban studies. I am interested in planning, urban regeneration and redevelopment, and in tracing the genealogies of our present-day urban condition back through the fascinating histories of the twentieth-century city. I have just finished a major research project on the historical emergence and explosive expansion of the modern property development sector since the 1950s. I am also interested in the role of consumption and the consumer economy in shaping the forms and fortunes of the modern city, and have a book coming out shortly exploring the urban dynamics of affluence and mass consumerism from the 1940s to the 1990s. For me history is always about providing new windows on the present as much as on the past, and I am thrilled to be able to combine my passion for history with my keen interest in the urban challenges of today and tomorrow as part of this new role.
Adrian Rogstad
I'm a Norwegian-British hybrid who started at the Institute in August, joining from the northern Dutch hinterlands of the University of Groningen for a one-year post in the 'History and International Studies 1900-present' programme. To say that starting a new job with the world in its current state is a strange experience is probably a cliché by now, but that doesn't make it any less true. The past couple of months have been surreal, but as I've struggled to make sense of Kaltura, Brightspace and the labyrinthine institution that is Leiden, I've been lucky to rely on the help and support of several colleagues, some of whom I've even been able to meet in person – many thanks to everyone who's helped make me feel welcome and for your generosity and good humour!
I teach primarily on the BAIS, on Russia/Eurasia-related courses. While online teaching is a challenge, so far it's been encouraging to see how the students show up, engage and tolerate the odd technical mishap (why those who lose their connection during group discussions keep getting put into breakout room four remains a mystery to me…). I have also been attending the virtual MAIR meetings to get a feel for the programme. The way in which IR is taught in both the BAIS and MAIR really appeals to me, with the strong focus on history, area studies and critical as well as non-Western approaches. Having been inculcated in the cult of Millennium during my PhD, I strongly believe that IR needs to be a much wider and inclusive enterprise than what is sometimes the case, and I'm excited to be working at an institute that promotes this kind of approach.
My own research focuses on practices of stigmatisation in international relations, primarily in relations between Russia and the West. I'm interested in how normative hierarchies are established, reinforced and contested through stigmatisation and how stigmatised states, like Russia, deal with being deemed deviant or inferior according to dominant normative standards. I'm also developing a second research interest in Brexit, as well as questions of time and temporality in international politics, and have plans for a project investigating the 'temporal politics' of Brexit and the Ukraine Crisis, seeing both as examples of how Europe has become increasingly 'out of sync' over the past decade (as a now doubly liminal European I see it as therapy-through-research). Finally, I have a soft spot for revolutions and their international dimensions, both in Eurasia and beyond.
The past few months have been hectic on a personal level, moving between a Groningen houseboat and London during the first wave and then to The Hague in the between-waves window, but my partner and I are now well-installed in the city and soon-to-be proud 'parents' to a mini schnauzer, so hopefully the months ahead will be somewhat calmer. As long as Kaltura keeps working.
One day, I hope to be able to actually visit my office and meet more of you in something resembling normal circumstances. In the meantime, I hope to see you online and to also learn more about your exciting research. Always up for a virtual coffee!