New publication affirms academic legacy of Hanna Stöger
In summer 2018 classical archaeologist Hanna Stöger passed away. At that moment she was in the midst of several cutting-edge research projects on the use of space in the Roman city of Ostia. To make sure that her groundbreaking work would not go unpublished, long-time colleagues Hans Kamermans and Bouke van der Meer took it upon themselves to finish what she started. The resulting volume Designating Place has now been published.
Bringing projects together
Some months after Hanna's passing an in memoriam conference was held in Leiden. Since Hanna was running many collaboration projects simultaneously, many of her colleagues met each other for the first time. 'Among others, she worked together with physicists from Delft University,' Hans Kamermans says, 'and during the conference I asked them what they would do with their results, now that Hanna was gone. They replied that they wouldn't be able to do anything with the results, for they did not have the archaeological background to come up with interpretations.' The conversation led Hans to the decision to bring all Hanna's projects together. 'We would finish what she no longer could.'
But Hans is primarily a prehistorian, and he does not consider himself an expert on Ostia. 'This is why I asked Bouke van der Meer to join in on this venture.' Bouke nods appreciatively. 'I was honored to be involved in this.'
Longstanding collaborations
Both editors have had a longstanding collaboration with Hanna. 'I have many melancholic memories of working with Hanna in Ostia,' Bouke says. 'She was a very inspired scholar and had a very kind personality. We worked together on the Domus Fulminata, and here she quickly discovered that the archaeological map of Ostia was incorrect.'
Hans nods. 'That's when we started to work together. She told me: We need fixed points, Hans. We had just managed to obtain a GPS tracker and the first time we used it was in Ostia. In a small team we georeferenced the whole site. And when we were done, the team moved to Satricum to help another archaeological project out. That was an idea of Hanna's, she was incredibly helpful.'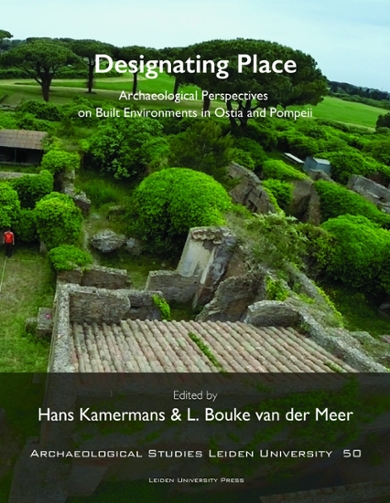 Designating Place
Designating Place, the title of the book that has now been published, had actually been chosen by Hanna for another publication that never saw the light of day. 'The book analyses the urban space of Roman Ostia and Pompeii in different ways, from spatial analysis to iconography and geophysics,' Hans explains. 'The volume is filled with articles by Hanna's colleagues and scholars that were inspired by her work. For example the Space Syntax article by Maura Medri and collaborators, that is comparable to the work of Hanna. It is tying loose ends, as much as anything can.'
Bouke reflects on Hanna's longstanding interest in Space Syntax. 'She already published on Space Syntax back in 2002 in BABESCH. In 2007 she continued this line of research in her PhD.'
'And Space Syntax research has continued to soar in archaeology,' Hans adds. 'It's a technique that finds its origin in architecture. Hanna was one of the first to apply this in archaeology.'
Academic legacy
The book can be considered to be part of Hanna's academic legacy. 'She had a collaboration running with the physicists from Delft that was nothing more than groundbreaking,' Hans explains. 'One of the publication's peer-reviewers stated that the two articles by the people from Delft alone make this volume crucially important.'
'The Delft research focuses on a new way of ground penetrating prospection,' Bouke adds. 'This is an experimental method that will help archaeologists to look through the ground. However, the interpretation is for now lacking.' Hans nods. 'That will be the next step, it is very unfortunate that Hanna will not be able to continue this line of research.'
About the publication
Spatial analysis on the basis of material culture has always been one of the major topics in archaeological research. Designating Place analyses the urban space of Roman Ostia and Pompeii in different ways, namely via geophysical analysis, spatial analysis, iconographic analysis and epigraphic analysis.