Spotlight on girls in Science: RISE lanceert jongerenraad
On the International Day of Women and Girls in Science (11 February) RISE puts the spotlight on four women in our faculty. The Researchers in Science for Equality (RISE) network is launching a junior board on this special day. Their main task? Optimise the information provision between RISE and the eight institutes of the Faculty of Science.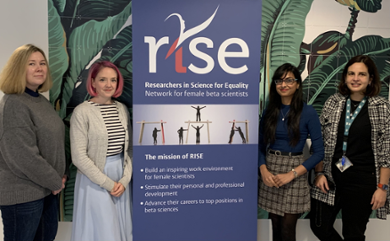 The junior board aims to enable two-way communication between staff members of all eight institutes within the faculty and the RISE board members. When an interesting event is organised by one of the institutes the members of the Junior board will make sure it will be known throughout the whole faculty.
Additionally, the junior board will improve contact between women within and across the eight institutes. The idea is to create a community from which members can learn, inspire, and grow from each other in a personal and professional capacity.
The mission of RISE is to build an inspiring work environment for women in science, to stimulate their personal and professional development, and to help advance their careers to senior positions. RISE also aims to enhance the visibility of top female researchers at the Faculty of Science and to raise awareness of the importance of gender equality. RISE will provide solicited and unsolicited advice to the Faculty Board and Selection as well as to appointment committees.
The RISE Junior Board includes:
Dr. Olga Gadyatskaya (she/her), an Assistant Professor at LIACS with expertise in cyber security. Olga will liaise with LIACS and MI.

Dr. Emily Strange (she/her), an Assistant Professor at CML with expertise in conservation biology. Emily will liaise with CML and LION.

MSc. Sanjana Panchagnula (she/her), a PhD candidate at STRW with expertise in laboratory astrochemistry. Sanjana will liaise with STRW and LIC.

Dr. Monica Varela (she/her), a Postdoc at IBL with expertise in immunology and inflammatory diseases. Monica will liaise with IBL and LACDR.
Please feel free to contact us at rise@science.leidenuniv.nl if you have any suggestions on improving the inclusion of women in science, organising women and girls in science activities, want to reach out to role models, or would like to become a member of the RISE network.