Staff symposium on student well-being: 'Building on a healthy, engaged and learning community'
Over 200 staff from Leiden University discussed student well-being with one another and students at the Staff Symposium on Student Well-being. In various workshops and lectures, lecturers, student advisers, student counsellors and other staff members discussed how they could contribute to our students' well-being.
Structural problems
Mental health issues increased during the coronavirus pandemic, but even before that, a large number of students were already experiencing problems. In her keynote speech, author Toske Andreoli described the structural problems that she believes lead to mental health problems in students. During her studies, she saw many students struggling with depression, anxiety and pressure to succeed and wrote her thesis on student well-being. In her book De mooiste tijd van je leven? (The Best Days of Your Life?) she offers a new perspective on student stress.
'There is a taboo on mediocrity.'
According to Andreoli, universities focus too much on individual students who already have problems, but if half of the students on a particular degree programme drop out, this cannot possibly be due to 'personal problems' alone. In her research, she identified three structural problems: pressure to succeed, lack of routine and discipline, and lack of social cohesion.
Pressure to succeed
'There is a taboo on mediocrity,' said Andreoli. Employers find it important that students have several internships, board and committee roles and experience abroad on their CV. Even for regular master's programmes, students must have achieved a certain grade average, and all universities now have honours programmes, which are only for the most talented and motivated students. That greatly increases the pressure to succeed. To reduce this pressure, it would help, said Andreoli, if the binding study advice (BSA) were scrapped.
''Students exceed their limits.'
The pressure to succeed has increased not only in studying, but also in terms of lifestyle. Andreoli: 'You don't just eat a sandwich for lunch anymore, but a meal prepped salad. You also see perfectionism in nutrition and sports. It leads to overactivity. Students exceed their limits.'
A lot of time to organise themselves
Students have a lot of time that they have to organise themselves. Some become very passive as a result, said Andreoli, which causes a lack of routine in their lives. This makes it important to reach agreements with students and to keep them to these promises. It can also help to study under supervision, as with the StudyShare project in Amsterdam.
Social cohesion
University brochures often feature pictures of students laughing together for the camera. In reality, however, there is little togetherness, said Andreoli, and sometimes there is even loneliness. Research shows that students with few social connections are more likely to suffer from anxiety and depression. To promote social cohesion, universities can ensure there are more contact hours and smaller groups. An informal attendance requirement can also help, as can a specific building and canteen for each study programme.
Hester Bijl
In her speech, Rector Hester Bijl emphasised the importance of prevention and early detection. 'The theme of well-being has a prominent role in the new strategic plan. Working on a healthy, engaged and learning community is our focus.'
Bijl listed the steps the University has taken recently to improve student well-being. Each faculty has appointed a well-being officer, for instance, and the University is working with external partners such as municipalities, the Municipal Health Service (GGD) and student associations. It has also set up student support groups and buddy systems, and the Caring Universities platform offers an e-health programme where students can learn how to deal with procrastination and stress, for example.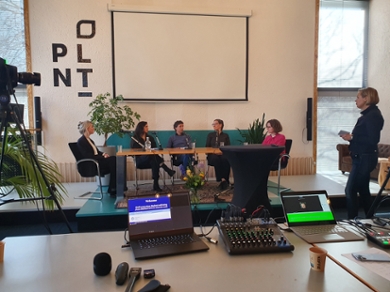 Workshops
The symposium participants could choose from ten workshops, divided into two rounds. In one of the workshops, student adviser Charlotte Rosalie discussed the 'contract' between University staff and their students. Rosalie: 'When a student contacts you, it is important to find out what they are looking for. Then you can clearly indicate what you can or cannot do for them.'
She believes it is important to ensure that students leave every meeting with something useful. 'We are quick to think we know what the student wants. In the workshop, I want to provide tools that really help get a conversation going. That's important not only for study advisers, student counsellors and psychologists, but also for lecturers.'
'I see burnout, depression, suicidal thoughts, anxiety disorders, panic attacks, you name it.'
In her job as a study adviser, Rosalie sees many mental health problems in students. 'I can list a whole range of problems. I see motivation problems, burnout, depression, suicidal thoughts, anxiety disorders, panic attacks, you name it.'
Rosalie thinks many of these problems stem from students feeling they have to 'get the most out of it' when sometimes they are unable to. 'They don't want to fail in the eyes of the people around them. It is about shame and fear. They are often not in touch with their own needs, desires and goals.' To improve student well-being, Rosalie thinks it is important to help students become aware of their patterns and what is causing their behaviour. This helps them discover and choose what works for them.
How do you get a conversation going?
Rivierduinen mental health services gave a workshop on 'How do you get a conversation going?' One of the participants was lecturer Iris Broeckx. 'In the workshop, we learned several techniques, such as LSD: luisteren, samenvatten, doorvragen (listening, summarising, asking questions). What are your tasks as a lecturer and how far do you go? And where can you refer students to? I find that very difficult.'
Besides being a lecturer, Broeckx is also a tutor for first-year students. 'You feel responsible for your students and you have a bond with them. That makes it difficult not to talk to them yourself when they have problems, but to refer them to the study adviser or the student psychologist instead. In the workshop, they gave us clear tools for this, such as the roadmap that shows what help is available within and outside the University.'
During the symposium, a new webpage
was launched where staff can find information about student well-being, including the Student Well-being Roadmap for staff.