Tell students about the NSE Survey!
The Dutch National Student Survey (NSE) was sent out to students on 20 January. To increase the response rate, we would like to ask all teaching staff to remind students to complete this survey during class. This can simply be done by adding this slide to your presentation.
If possible, ask students to fill in the survey during a coffee break or during the last 15 minutes or so at the end of the class.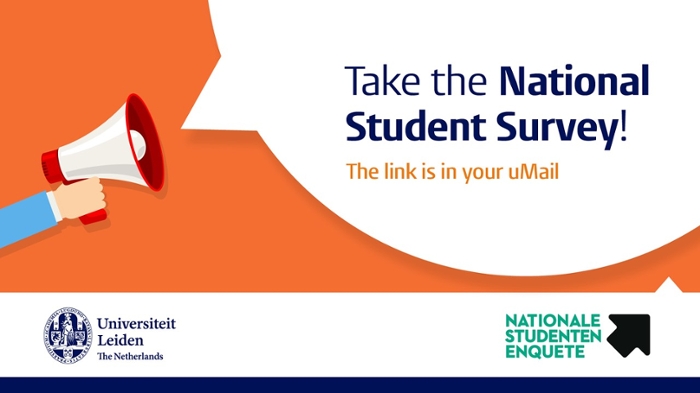 Action Week
The survey will be open until 12 March 2023. From 13 February until 17 February 2023 the NSE Action Week will be held. With a special Valentine's Day action taking place at the KOG! This would be a good week to use the PowerPoint slide. There is also an option to include the NSE promotion in your e-mail signature at the bottom of your e-mails.

Call to Action: Complete the NSE!
The call to action for students: are you satisfied with your study programme or is there room for improvement? Give your opinion by filling in the NSE 2023! The invitation can be found in your uMail. You can complete the survey until 12 March 2023.
Why is this so important?
The results will help students to improve their studies and help prospective students chose the right study programme. This is done in different ways and on different levels: on a national level, at each university, at each faculty and for each programme. The quality of the study programmes is continuously being monitored. Both by employees of the programmes and the faculties (evaluation of education) as well as by external experts (external quality assessment).
Thanks in advance for bringing the NSE to your students' attention!
NB: What is shared in the NSE will be used for study programme promotions, quality assurance for higher education and academic and statistic research. The outcomes will be shared with Studiekeuze123 who will use them to create anonymised data files. Students cannot be traced back individually.
More information about the NSE.