Honorary doctorate for child rights activist Graça Machel
Mozambican politician and child rights activist Graça Machel will receive an honorary doctorate from Leiden University for her commitment to the rights of women and children in Africa and elsewhere. She will be awarded the honorary doctorate on the Dies Natalis, the University's foundation day, on 8 February.
Because of the coronavirus measures Machel will be awarded the honorary doctorate via a live video link with South Africa, where she has lived for years. Leiden is not unfamiliar territory for Machel: she is the widow of Nelson Mandela, and came to Leiden with Mandela when he received an honorary doctorate for his huge significance in the fight for freedom in South Africa.
Nomination
Machel was nominated by the board of Leiden Law School, on the initiative of professors of child rights Ton Liefaard and Julia Sloth-Nielsen. Liefaard explains: 'In her eventful life and impressive career Graça Machel has been a steadfast champion for the rights of women and children in Africa and beyond. This was in many different roles.'
The importance of education
Machel (1945) grew up in Mozambique and studied languages at the University of Lisbon. After graduating she became a teacher and began her lifelong mission for the development of children. After Mozambique gained independence in 1975, she became its first minister of education. The number of school-going children increased dramatically during her term.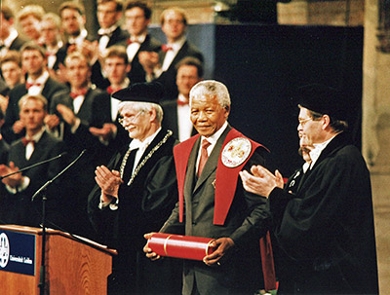 Peace and human rights
Machel has fought for the rights of women and children around the world in many different roles. She is one of the founders of The Elders, an independent group of global leaders who work together for peace and human rights. She set this group up with her husband Nelson Mandela, the former president of South Africa who died in 2013.
Child marriage and armed conflict
Machel is a champion for Girls Not Brides, an international organisation committed to ending child marriage. She is also an independent expert at the United Nations where she advises on the impact of armed conflict on children. She has made an important contribution to this field, not least in the eponymous Machel Report from 1996. Liefaard: 'In all these different roles Machel has remained committed to the development of the African continent. This is based on the conviction that Africa has much to offer itself and the world.'
University posts
Machel is the current president of the School of Oriental and African Studies at the University of London and has previously served as chancellor of the University of Cape Town. She has received various honours, including from the UN, the Commonwealth and the British Academy.
Banner photo: Fronteiras Braskem do Pensamento