New book to improve and promote science with citizens
The new open access book The Science of Citizen Science bundles insights into science that is conducted together with citizens, to promote this growing form of science.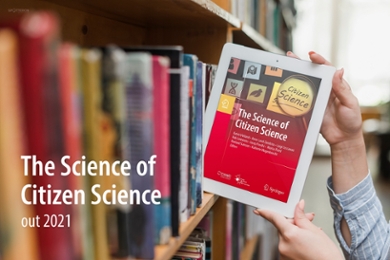 'Citizen science is a growing field in which the public and collaborate to acquire new knowledge. Also, it connects people with science and scientists with society,' says Anne Land-Zandstra, a researcher of citizen science at the Science Communication and Society department at the Institute of Biology Leiden. She is co-editor and one of the authors of The Science of Citizen Science. The book was published online on 12 January and available via open access.
Scientific literacy
Citizen science involves people in scientific research who are not working as scientists. Not as a test subject, but, for example, as a data collector. By participating in this type of research, people learn more about animal and plant species, for instance. They search for galaxies or learn more about history. At the same time, citizen science provides scientific or social insights that would not have been possible without the cooperation of citizen scientists. Citizen science is increasingly recognised; the scientific results are appreciated, as is the increase in scientific literacy. A win-win situation.
Strengths and barriers
The book The Science of Citizen Science deals with the aspects of citizen science and its strengths and relevant barriers. The introductory part defines what is and what is not citizen science and what contribution it can make in the natural sciences, social sciences and humanities. This part includes, for example, ethical questions about data handling and personal rights. The second part discusses what the collaboration between researchers and volunteers might look like, and offers suggestions to increase inclusion and diversity. The final part presents and discusses practical tools, and how to evaluate citizen science.
Stimulating creativity and innovation
The book is the work of the COST (Cooperation in Science and Technology in Europe) Action, which aims to promote creativity, scientific literacy and innovation across Europe through citizen science. More than a hundred authors, scientists and practitioners, from over twenty countries have contributed to the book. 'The international collaboration within the COST Action was enormously inspiring,' says Land-Zandstra, both author and vice-chair of the partnership. 'I am happy that we were able to bundle all that work into this book.'
The book is intended for people who want to know more about the field of citizen science or who want to use it in their research or within their societal organisation. Land-Zandstra: 'With this book, we also hope to provide a reference work for academic education about citizen science, as it is a very fast-growing field.'
The book The Science of Citizen Science is available open access via Springer.
Source: COST Action
Header image: Volunteers collect data for the project 'Schone Rivieren' (Clean Rivers).