"No metadata no future" – kicking off UMADA [on a donkeys' island]
Ustadh Mau Digital Archive project (UMADA) is among the UCLA Library 29 international cultural preservation projects supported by the Modern Endagered Archive Program (Cohort 3). From the 3rd up to the 5th of October, a digitization training workshop took place on Lamu island, on the so-called northern Swahili coast of Kenya.
The town of Lamu, the oldest of its kind still in existence in Kenya, is one of the best-preserved examples of Swahili culture in East Africa and was designated a UNESCO World Heritage site in 2001. As the streets are narrow, the island has just a few motorised vehicles, transportation and other heavy work is done with the help of donkeys.
In the centre of Lamu there is Lamu Fort and its majestic square called Mkunguni where every evening at 18.30 the news are screened for the publics that gathers there, chats and plays bao. Built at the beginning of the 19th century, Lamu Fort with its majestic square now houses the only public library on Lamu. The archive room of the Lamu Fort Museum Library has been chosen as venue for the digitization of Ustadh Mau's private collection. For the time being, its collection has thus been moved there and stacked on new shelves for temporary conditioning. Once the digitization will be over, the material will be returned to its home archive and stored in much appropriate acid-free boxes and paper envelopes.
The team of experts travelling from the Netherlands (admin. host of the UMADA project) who stayed on Lamu for two weeks, was made of Ursula Oberst (information specialist at the African Studies Centre Library), Thomas Gesthuizen (webmaster and audio expert at Voice4thought) and Annachiara Raia (assistant professor of African literature and arts at Leiden University). Two interns also joined the team in their capacity of research assistants: Ayla Ata (BA in Middle Studies, Leiden University) and Charlotte Sophie Bruns Knight (BA International Studies, Campus Den Haag). In situ, the team has expanded thanks to the cooperation of Ms. Khadija Issa Twahir (Librarian at Lamu Fort and Survey of Documentary Heritage and indigenous records), Mohamad Hassan (Exhibition officer Lamu Museum), IT specialist Fahim Abdalla and research assistants Naima Idris and Mohamed Omar.
Quickly the team created synergies. To name but a few, the Wiki sisters in crime – namely Khadija and Ursula – who both share their passion and commitment for Wikimedia; Thomas Gesthuizen and Fahim Abdalla quickly got tuned too, thanks to their shared IT expertise and engineering vocabulary. Thomas, who is also hugely passionate of music and vintage vinyl records in particular, has been inspired by old heritage objects stored at Ustadh Mau's library such as the dusty but yet fascinating tape deck, a National Panasonic RQ565D.
The archive owner Ustadh Mau opened the training workshop and expressed his gratitude for setting up all this. In fact the team is enormously grateful to him and the immense knowledge stored in this living, multilingual and multimedia archive that he has agreed to digitize and travel far and wide. During the training weeks and up to now, he is never tired to answer and provide insights about the collection to his new pupils, like Ayla and Sophie while talking pole pole Swahili to them.
In the first week, the team also started inventorizing the collection of audiocassettes: each object is attributed a unique number and as much information as possible on each object is gathered (i.e. information on the object, length, cassette brand name and content).
In the second week, the three-day training workshop was held. Whereas the first and second day were dedicated to the digitization of flat materials and audiocassettes, the third day was devoted to metadating and archiving. Khadija kicked off the third day with a general introduction on metadating and a wonderful presentation on the metadata fields the library fills in when describing manuscripts and books. Ursula's presentation tackled questions such as what is good metadata and why do we need good metadata. The most challenging part was for the team to get acquainted with controlled vocabularies and the standards of metadata description as requested by MEAP. Through sample worksheets and objects to be asked to be described, the team was practically trained and acquired some confidence.
Especially noteworthy is the fact that the metadata descriptions are bilingual: in English and Kiswahili. For fields like "Genre" or "Language", the funder requires the usage of internationally recognized terms. For some fields, including "Subject", the projects are welcome to use locally defined vocabularies. UMADA decided to use the African Studies Thesaurus in order to describe the subject of the manuscripts and cassettes.
Useful remarks on the metadata description led us to edit the description of some metadata fields. For instance, we all considered of utmost importance to add Lamu as significant geographical subject as well as Amu language for the poems that are written in Kiamu, the Swahili-variant spoken on Lamu.
As part of a broader outreach agenda, Fahim also started arranging current Friday sermons of Ustadh Mau that can be shared via Whatsapp lines. Since 2020 through his tv channel AMU TV Fahim broadcasts Ustadh Mau's Friday's sermons. This already shows in practice how much care and efforts can be put towards living heritage by combining indigenous knowledge with social media.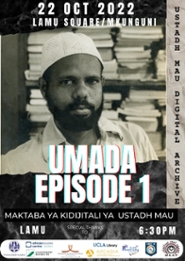 Furthermore, on the 22nd of October, the public screening of UMADA 's first episode documentary about the Ustadh Mau library was been displayed in Lamu Square, Mkunguni. A screening at Leiden University will be also scheduled. Stay tuned!
Text by Ursula Oberst. Edited by Thomas Gesthuizen and Annachiara Raia.
Thomas Gesthuizen:
'The process of digitizing audio tapes for the UMADA archive breathes new life into cassette recordings of sermons and poetry readings from up to 40 years ago, many of which have never been heard after they were first recorded. It's an exciting excursion into archiving multimedia, which is still relatively unknown terrain in Kenya, and certainly on Lamu, even though there are other local archives that could potentially be rescued, using the methodology that the UMADA team has embraced.'
Ursula Oberst:
'The discussions on our UMADA What's App group last week convinced me that the team on Lamu picked up the digitization and metadating tasks excellently. I'm already looking forward to the moment the objects and metadata will be findable via the MEAP catalogue and hopefully also in a Linked Data environment.'
Annachiara Raia:
'I can't find the right words to express my gratitude for having such a beautiful team for the UMADA project. Besides their enormous expertise and generosity, it is extremely rewarding to work with a team who is as sensitive as you towards knowledge and arts in at-risk societies. We hope that the relevance and impact in preserving this vibrant and diverse archive from the island of Lamu may inspire new cultural preservation projects and make the future of humanities stronger during these continually uncertain and difficult times.'