Executive Board visits Leiden University College The Hague
Leiden University's Executive Board (CvB) visited Leiden University College in The Hague on Friday 11 November during a working visit tour past the Institutes of the Faculty Governance and Global Affairs. Hester Bijl and Martijn Ridderbos were provided with an overview of the programme, the research, and other activities hosted by the honours college.
Their experience was similar to that of the prospective students who visited Anna van Beurenplein during the Bachelor Open Day, three weeks ago to get a taste of the Liberal Arts and Sciences: Global Challenges - programme. After a welcome by Dean Giles Scott-Smith, the college showcased the LAS curriculum in a poster presentation. Highlighted aspects of the presentation were the small-scale education, the thorough recruitment and selection process, and the tightknit and thriving community of students, staff, and alumni.
Residential Assistant
The residential setting of LUC and its importance for the programme, in which students feel at home and are able to pursue both extensive and in-depth knowledge, became clear during a visit to one of the student apartments on the upper floors of the building. Students explained the unique 'Residential Assistant' system to the CvB in which senior students mentor younger students should they run into problems during their studies or private lives.
Global Citizenship
The presentations in one of the classrooms focussed on 'student centered learning and teaching'. Student Manju von Rospatt and Assistant Professor Kristin Makszin demonstrated how students are put in charge of their own learning process. Caroline Archambault and Josien de Klerk shared their experiences developing LUC's Global Citizenship programme in which students are given the opportunity to develop intercultural communication and reflection skills and become actively involved in projects from partner organisations in The Hague and around the world.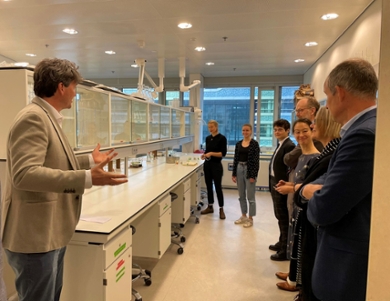 Climate change
The morning was concluded with a visit to LUC's Science Lab where a group of students were working on an analysis of soil samples taken from the dunes in Kijkduin. The teachers working in the Sustainability domain explained how ongoing issues, such as climate change, are integrated in their research and education. Associate Professor Paul Hudson has, for instance, recently published an article on the floodings in Limburg of summer 2021, while Thijs Bosker's work focusses on microplastics in the dunes and seawater.
At the end of the visit, the CvB expressed their admiration and implied on how LUC might be able to share these best practices with the other institutes of Leiden University.
The Leiden University College The Hague offers a broad, flexible, and interdisciplinary residential study programme based on the Liberal Arts and Sciences and with a focus on Global Challenges; the societal challenges of the 21st century. In this bachelor's programme you specialise in areas such as world politics, economics, administration, international justice, human and cultural interaction, world health, and environmental studies.