Four reasons why you should make use of LLInC, the brand-new knowledge centre
Educational innovation provides both opportunities and challenges for lecturers. How do you put your innovative ideas into practice or how do you choose the right learning resources for your teaching? From now on, lecturers can go for support and inspiration to the new Leiden Learning & Innovation Centre (LLInC), a merger between the Centre for Innovation (CfI) and the higher education department of the ICLON (Leiden University Graduate School of Teaching).
Rector Magnificus Hester Bijl is committed to providing good support for lecturers and is glad that the LLInC is now open. 'I'm proud that our experts in education and experts in teaching tools are able to join forces here – also with an eye to the fact that our university is blended and will probably become somewhat more so. This new centre combines teaching with the use of technology if this helps the teaching.'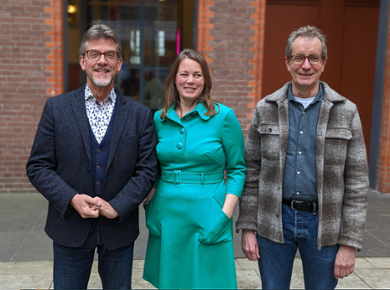 Plans for LLInC pre-date the pandemic – although the digitalisation of the teaching has been fast-tracked since then. 'Lecturers now face the challenge of adapting their teaching,' says director Michelle Olmstead, heading up the LLInC together with Professor Han de Winde and senior education advisor Maarten van de Ven. 'They have the full support of their faculties in this. Here at LLInC, we supplement this with a combination of digital teaching and educational expertise. Ultimately, I expect every lecturer to come in contact with LLInC at one point or another.'
Can she give an example of how LLInC can help lecturers? 'Say you're covering certain theories about stress in a psychology course,' says Olmstead. 'You can have students read a book, but you could also have them put on VR goggles and immerse themselves in an exciting simulation, specially made by LLInC. Then they can experience for themselves how stress occurs. Simpler examples are how we can help you integrate reflective writing about personal learning goals in students' independent-study assignments or set up online surveys to measure your students' learning experience.'
'We expect every lecturer to come in contact with LLInC at one point or another'
Her colleague De Winde explains that it is the explicit intention that there be close collaboration between LLInC and the Teacher Support Desks in the faculties. 'And that the LLInC experts also support the faculty helpdesks. That way, a real network can be created.'
The LLInC directors are keen to invite lecturers to come and find out how the centre can help them. Hester Bijl and the directors have four good reasons to contact the LLInC:
1. You want to develop personally as a lecturer
LLInC organises the BKO (University Teaching Qualification) courses and creates customised workshops for faculties and departments. Blended learning, digital exams, course design and scriptwriting for videos and podcasts are just a few of the topics on offer.
And the range of activities forms a good basis for people's expertise, says Bijl, 'It's crucial that you teach lecturers the right things. I benefited greatly as a lecturer from taking lessons in activating learning. It gets you thinking – plus, of course, you come in contact with other enthusiastic lecturers.'
2. You want to learn from course evaluations
It's important to know what works and what doesn't, say the LLInC experts. The centre creates and processes professional evaluations and provides automatic processing of written exams. It also advises on preparing of meetings with accreditation committees.
'The primary consideration is that we really start from a position of trust,' Bijl emphasises. 'We don't want to be checking quality. Having said that, it is useful to keep a finger on the pulse. Course evaluations are an important tool and the course assessments come around every year. So we have to support our lecturers well in that.'
3. You want to create a 'learning experience with impact'
LLInC experts exchange ideas on methods and digital tools that generate curiosity while also being accessible and inclusive. There is a wide variety of possibilities, ranging from developing and providing interactive lectures to setting up collaborations between students in diverse groups.
'We have a website offering tips and tools for course design and blended learning,' says Olmstead. 'And if you want a more active approach, you can schedule a one-on-one talk with our experts.'
4. You want to innovate in education
LLInC helps lecturers to investigate concepts from many different angles: the centre shares methods and best practices in the area of innovation and exchanges ideas about topics such as data privacy, intellectual property, policy research and project management.
Does innovating take lecturers a lot of time? 'Change always takes more time at the start,' says Olmstead. 'But in the long term, it will actually save time. Take, for example, recording informative videos or knowledge clips: you can use them for years instead of giving the same talk time and time again.'
Would you like more information about what LLInC can do for you? If so, check out the website or pop by your faculty's helpdesk. And if you have any doubts or questions, please don't hesitate to mail LLInC.