Jasper's day
Jasper Knoester is the dean of the Faculty of Science. How is he doing, what exactly does he do and what does his day look like? In each newsletter, Jasper gives an insight into his life.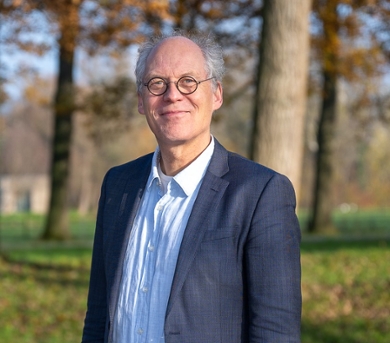 Tuesday, 14 February
'It seems to be an orderly day with a board meeting in the morning and the first session for the faculty strategy plan in the afternoon. From this week on, we're doing our faculty board meetings differently. We reserve the whole Tuesday morning, starting with decisions that need to be made. Then we discuss issues that are still under development and that we want to brainstorm about together in a relaxed way. It's the first time we're doing it this way, but I like it already. It is nice that we now have more time to share what each of us had on our desks the past week. The coming weeks will prove whether the change is indeed an improvement.
'This year Valentine's Day consists of the first get together for our strategic plan, a board meeting and sushi with the family'
Today, we stop at 11.30 hrs. and go to Corpus as a board to make the final preparations for the strategy session. At 12.30 hrs. the first participants arrive, and things really get lively during lunch. A total of about 70 people have signed up for this session, not counting table chairs and note-takers. So, when I open the meeting at 13.00 hrs, the room has filled nicely. I am especially pleased that besides many familiar faces, there are also a lot of people I have not seen before. The Faculty seems nicely represented across the board, with a good cross-section of different sections and ages. Only students are represented less than we hoped for, but that will hopefully be rectified on 21 February, when we focus more strongly on education.
Today, the focus is on the Profile of the Faculty. After my introduction, our president of the executive board Annetje Ottow delivers the keynote speech. She talks about the University's core values (connecting, innovative, responsible and free) and emphasises that freedom is not possible without responsibility, a take that I wholeheartedly support. She challenges us to show even better where our strengths lie and what we stand for, in short, to profile ourselves better. After her speech, there appear to be many questions from the audience. I decide not to cut them short, but to take advantage of this opportunity.
After this, the group disperses to talk about various dilemmas the Faculty is facing. These are about growth, for instance, about mission and profile, or about internationalisation. I decided not to sit at tables myself. I walk around and listen-in briefly at each table. The atmosphere is good, and everyone seems to feel free to express their opinions. Apart from the subject matter, I find that a huge bonus of meetings like these. Open and engaging conversations between people from different institutions and departments are great things. I wish for the Faculty that they become the norm. Two rounds of table discussions take place, after which we have a plenary closing with short conclusions from the nine table chairs. This formal conclusion is followed by drinks, for which many linger. People continue talking and I have plenty of conversations myself. A successful afternoon, according to most reactions. Of course, there are points for improvement. We will learn from those for the next sessions, but a lot of input was gathered and a tangible connection was made!
I go home satisfied at the end of the afternoon. When Kamiel comes home from his training, the four of us have sushi for Valentine's dinner. Very delicious, making everyone happy! After this, I take a quick look at the day of tomorrow which doesn't require much reading work this time around, so I'm quickly able to help with a social studies presentation. I have just enough time left in the day to do some laps in the pool. A very orderly day indeed.'