PhD Researcher Anastasia Nikulina Wins Nick Ryan Bursary Award 2021
To honour the work of its longstanding chair Nick Ryan, CAA International provides the annual Nick Ryan Bursary Award. The Nick Ryan Bursary Award winner is chosen from each year's student paper presenters. The award goes towards the costs of attending the CAA Conference the following year, up to a maximum of 1,000 Euros. This year, our own Anastasia Nikulina won the award; ''I always wanted to participate in the annual CAA conference, which is why I am incredibly grateful and honored to have been given this unique opportunity to share my research and learn more about the latest achievements in my field.'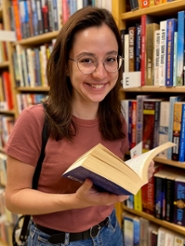 Annual Nick Ryan Bursary Award
This year, the conference was virtually held in Cyprus. Here, PhD candidate Anastasia Nikulina presented her paper 'Agent-based modelling to assess hominin role in creating and maintaining vegetation openness during the Last Interglacial and the Early – Middle Holocene in Europe: an overview of a planned simulation.' Watch her presentation here.
Simulating Ancient Hunter-Gatherer
Humans have a long history of niche construction activities that led to landscape modifications. Based on ethnographic observations, we know that foraging societies can conduct such activities. However, the intensity and specific forms of past hunter-gatherer landscape changes are still under debate.
In Nikulina's research project, she would like to evaluate the role of hunter-gatherer activities in creating and maintaining vegetation openness during the Last Interglacial and the Early – Middle Holocene in Europe; 'My presentation was devoted to the planned agent-based simulation which I am going to create to answer this research question. Along with explanations about the future model, its output, and interpretation of results, I presented the model's prototype, its test experiments, and preliminary statistical analysis,' she says. Her future work will focus on finalizing the test simulation, further test runs and analysis, and creating the main version of the model with actual inputs and results.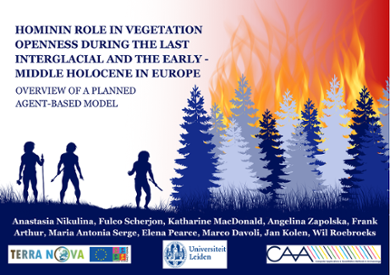 Grateful and honored
'I always wanted to participate in the annual CAA conference, which is why I am incredibly grateful and honored to have been given this unique opportunity to share my research and learn more about the latest achievements in my field.' She was delighted when she heard that the jury selected her to be among the eight contestants competing for the annual Nick Ryan Bursary Award. However, it was nothing compared to her surprise when she won the award!
Words of gratitude
'I would like to congratulate all the participants for their high-quality presentations, and also thank the committee for their vote of confidence. This award means the world to her. Moreover, she also recognizes the invaluable help of her primary supervisors, Professor Wil Roebroeks, Jan Kolen, co-supervisors Dr. Fulco Scherjon, and Dr. Katharine MacDonald. 'Finally, I wish to express my deepest gratitude to my collaborators Angelina Zapolska (Vrije Universiteit Amsterdam), Frank Arthur (University of South-Eastern Norway), Maria Antonia Serge (University Toulouse Jean Jaurès), Elena Pearce (Aarhus University), and Marco Davoli (Aarhus University), as well as their supervisors, co-supervisors and the whole Terranova consortium.'
Congratulations
The Faculty of Archaeology commends Anastasia on her thriving hard-earned success, and we look forward to seeing more great things from her in the future.
You can find out more about Anastasia's research at her professional profile here. Anastasia is also part of the TerraNova Initiative.