Paul Wouters receives RISE Award
Paul Wouters received the RISE Award, an award by the women's network RISE, for his commitment to increasing gender equality at the Faculty of Science. 'It makes it clear that it is possible to truly make a change in 9 months. That is why I am happy with this award.'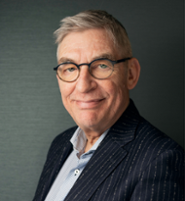 From April to December 2021, Paul Wouters was acting dean of the Faculty of Science, where RISE's community can be found. According to RISE, Wouters has strongly improved and established their position. The award is a means to express their recognition for that. Wouters, for whom the presentation of the award came as a total surprise, is touched and honoured: 'I didn't expect something like this at all.'
Wouters says he 'didn't really do' anything himself: 'I encouraged and stimulated RISE and kept repeating to the – still mostly male – Scientific Directors how important their female colleagues are. Gender diversity has to be a priority at the Faculty of Science.'
RISE describes that Wouters made sure that the network joined important meetings as an advisory body, for example. Because of that, RISE is present in places where they can realise the change they stand for.
'To manage is to change'
To Wouters, being a manager does not mean protecting the status quo, but changing society – 'for the better, I do hope,' he says with a smile. That is also what he brings with him to his deanship at the Faculty of Social and Behavioural Sciences. Although more women can be found at this faculty than at the Faculty of Science, diversity is lacking in other areas, for example intersectionality. Besides, it is without a doubt the case that in social sciences too women have to work harder than men to receive the same amount of recognition, Wouters says.
'I don't see myself as a role model. I try to be in my administrative actions, I try to practice what I preach. And I want to be called out if I'm unsuccessful. A role model is not someone who thinks they do everything perfectly, but someone who dares to strive and stumble.'
About RISE and the RISE Award
RISE (Researchers In Science for Equality) is the network for female scientists of the Faculty of Science. RISE strives to create a community where female beta scientists can share their knowledge and experience with each other, but also to increase the diversity at the Faculty and improve the visibility of female top scientists.
Since 2018 RISE presents the RISE Award to staff members of the Faculty in recognition of their outstanding commitment to increasing gender equality at the Faculty of Science. Eric Eliel (former Scientific Director of the Physics Institute) and Geert de Snoo (former Dean of the Faculty of Science) preceded Paul Wouters as recipients of the RISE Award.
Photos: Suédy Mauricio
Text: Emma Knapper