Email
Do you want access to your mailbox via your webmail? Do you want to share a single e-mail address with a number of colleagues? Read about the different options for email.
Log in to your email
If you are working on your work computer, you can access your work mail via Outlook. If you are not at your workplace, you can access it with your ULCN account via Outlook.office.com (webmail).
You can use the email signature tool to easily create a signature that meets Leiden University requirements. All university employees should use this tool to make a signature. Mentioning pronouns is optional.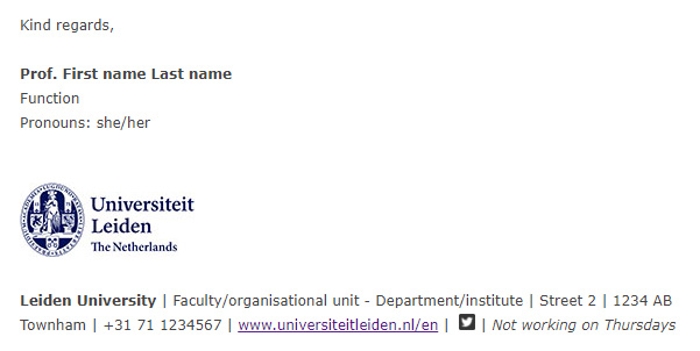 Do you frequently send emails to a group of people inside the university? Then you can apply for an email distribution list for this group via the helpdesk portal. .
The email address of a distribution list appears in bold in your Outlook address list under the name of your faculty or unit.
By sending an email to this distribution list, you will be sending it to all the list members.
In addition to your work mail, at the start of your employment you are also issued with an uMail account. The university uses uMail to communicate with its students. In practice, as a staff member you will probably not use uMail much, because all communication takes place via your work mail. Your uMail is automatically forwarded to the inbox of your work mailbox.