Leiden students develop highly contagious card game
Infecting each other with viruses and bacteria while protecting yourself with medicines and vaccinations. Sounds like a fun evening, right? Master students Life Science & Technology Rafael Jezior and Dennis de Beeld certainly think so. Together, they developed ImmunoWars: an exciting card game based on real science. Soon, you will be able to play it too!
Imagine you are an E. coli bacterium. You weaken your host after a not-so-hygienic dinner by causing severe diarrhoea. You're even at risk of chronic anaemia... But then the host suddenly plays a defense card: antibiotics! The tide seems to have turned. However, the host is not yet out of danger. With dozens of viruses and other bacteria lurking around, a new infection seems never far away...
An idea born out of boredom
The story begins on a dull October evening in 2019 when Rafael and Dennis are bored. 'We felt like playing a game that touched on our studies: at that time the Bachelor Life Science & Technology,' Dennis explains. 'A biological warfare between pathogens and the immune system. We went looking, but could not find anything that came close. Then we decided to develop such a game ourselves.' 'We have now put more than 2,800 hours into the project and have also completed a succesful crowdfunding,' Rafael continues. 'We raised over 14,000 euros, well above our set target of 10,000 euros. And that means that we can now bring our game to reality!'
The game in a nutshell
Infecting your opponents by sneezing on them? Check! Deactivating their immune system? It's all possible in ImmunoWars. The aim of the card game is to build up a strong immune system to protect yourself against pathogens. The last surviving player at the table wins.
You win by collecting the right cards: protective clothing, immune cells or an ingenious vaccine. With these cards, you arm yourself against the harmful cards, such as the aforementioned E. coli bacteria. But also the newcomer Covid-19 plays a part, as well as lesser-known diseases such as Dengue or Chikungunya. In total, the game has 105 unique cards.
Dennis and Rafael are also working on a reference list, so players can learn more about the scientific research that underlies the various cards.
For more information, visit https://ImmunoWars.io/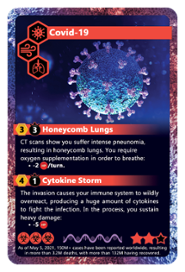 Science is fun, even in your free time
The two friends soon realised that the game had much more potential than just entertainment. Dennis: 'With ImmunoWars, we make science cool and hope to enthuse prospective students to choose for STEM studies as well.' Rafael: 'Moreover, we teach people all about the immune system and pathogens in a playful way. We see it as a kind of guerrilla education, with which we can dispel misconceptions about our field.'
Always up-to-date
The boys would also like to get in touch with scientists so that they can keep their game updated with the latest discoveries from the world of research. It would be very cool to release an expansion set once in a while with the latest developments, Rafael says. 'And that researchers would thus be able to add their "own" playing card to the game.'
Besides these updates, there are already ideas for various expansion sets or special editions, such as a family edition. Dennis: 'The original game is in fact 16+ because it is rather complicated. It is about diseases and moreover packed with satire and black humour.'
The boys are still keeping quiet about the upcoming expansion sets. 'That's how we keep it exciting,' Rafael laughs. 'But we already have an STD edition and a "Back From The Dead" edition. The latter is about bacteria and viruses that have almost been eradicated, like smallpox.'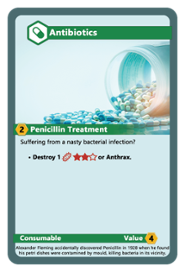 Ready to infect the world
The first trial players are enthusiastic. 'It was really fantastic, we feel like playing it again,' commented student game club Duivelsei. The chemical weekly C2W also came up with praise: 'The design is beautiful, the mechanisms are fun and the facts interesting.' Expat magazine Dutch Review found the game easy to learn. 'It will quickly become a party-game favourite. So, say goodbye to Cards Against Humanity.'
Although the target amount has been reached, interested parties can still contribute by ordering the game in advance. 'With this additional money, we can work better and faster on future editions,' Dennis says. Rafael: 'That way we can make our game even better and achieve our goal: to infect the whole world with our game ImmunoWars.'
ImmunoWars is expected in December 2021.
Contribute as a scientist
If you are a scientist and you would like to contribute to the game. Please get in touch with Dennis en Rafael. Mail to: info@immunowars.io