Heritage expert Ian Lilley holds commemoration speech at Netherlands-Australia War Memorial
Professor Ian Lilley, the Faculty of Archaeology's Willem Willems Chair in Archaeological Heritage, was invited by Her Excellency Mrs. Marion Derckx, Ambassador of the Kingdom of the Netherlands in Australia, to present the 2022 commemoration speech for Netherlands Memorial Day on May 4th at the Netherlands-Australia War Memorial in the national capital, Canberra.
Camp Columbia
Ian was invited because he leads a Dutch-Australian research project concerning Camp Columbia, the WWII headquarters of the Netherlands East Indies Government-in-Exile that was established near Brisbane in NE Australia in 1944.
Almost completely unknown in Australia, the Netherlands and Indonesia, Camp Columbia took over the headquarters of the US 6th Army when it returned to Southeast Asia with General Douglas Macarthur. The Dutch authorities brought together most elements of the Netherlands military and the East Indies Government that were scattered across Australia after the Dutch left the East Indies when Japan invaded in 1942.
The Netherlands was determined to recolonialise the East Indies (i.e. reinstate the 350-year-old colony) after the war, and Camp Columbia was the planning centre for this operation. In addition to Indonesian troops intended to assist with this effort, the Dutch also brought large numbers of Indonesian political prisoners to Australia. The Australian Government forced their release, and ironically, many were then employed by the Government-in-Exile, and covertly used Dutch facilities and equipment to further the cause of Indonesian independence. Ian's project has a particular interest in this matter, alongside the work that is being done on the activities of the military and civilian Dutch personnel at the camp.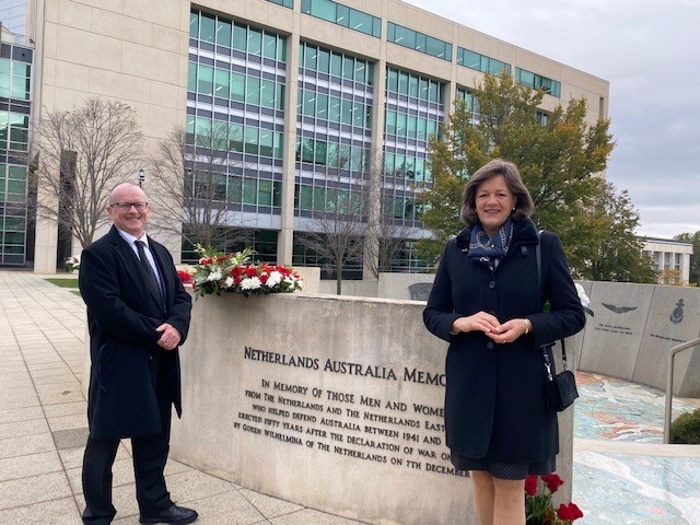 Shared Cultural Heritage programme
The Camp Columbia research project is funded by the Netherlands Shared Cultural Heritage programme, with in-kind funding from Ian's Australian base, the School of Social Science in the University of Queensland (UQ), as well as from Museum Bronbeek (Netherlands Ministry of Defence Museum of the Royal Netherlands East Indies Army) in Arnhem. Alongside a UQ team, the project's Dutch partners are Mr Bas Kreuger, of Kreuger in Kultuur, and Mr Pauljac Verhoeven, Head of the Museum Bronbeek.