Justin Spruit: 'TRAIl makes finding an internship easier'
In the upcoming months, we'll talk to students of the FGGA faculty who have finished their internship. What did the internships bring them? And what kind of work did they do? In this interview we speak with Justin Spuit, a Master's student Political Science: Dutch Politics and International Relations: European Union Studies at Leiden University. Justin studied at the Institute of Public Administration at the FGGA-faculty and in this interview, he talks about his internship experiences and the advantage of the TRAIL internship bank.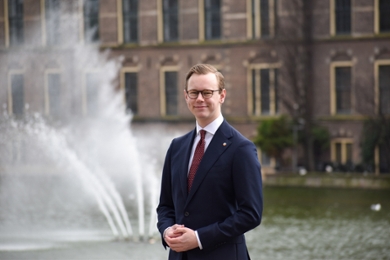 Where did you do your internship?
'I did an internship in the Tweede Kamer (House of Commons) by Martijn van Helvert. He was at the time a member of the House for the Dutch political party CDA. He was mainly specialized in everything concerned with Foreign Affairs and Defence. Those were also the issues I wanted to work on.'
How did you end up with the internship?
'After two years of studying, I wanted to experience what it's like in practice. I had the idea that theory and practice can be quite different, so I also wanted to experience that. Politics fascinates me, so I had my sights set on an internship to look into the heart of the House for some time. Actually, it was luck, coincidence and a bit of assertiveness that got me that internship. My internship was mainly during COVID, so perhaps my activities were different from those of the students who are doing internships now.'
What kind of work was that?
'I was mainly supporting Martijn van Helvert. All members have certain portfolios, so certain areas that they are specialized in on behalf of their party. I supported Martijn van Helvert in such matters. You can think of, for example, sorting out documents or going with him on working visits. I was also very much involved in the area of the US sanctions against a number of high-ranking members of the International Criminal Court and in the China file. It was really a supportive role, but I also had especially nice contact with the other interns. In general, an internship at the House of Commons gives you a good idea of what work in the House is like - plus there are a lot of working visits. This makes the internship very versatile.'
What did the internship bring you?
'In some ways, I have become more pessimistic about politics. The internship has also made me look at my study and politics differently. In Public Administration you really learn to look at the content of the situation, but in politics people pay a lot of attention to the form. Politicians and spin doctors think about how something appears in the news or how a certain message is received in society. I would also think that it would be good if the study paid more attention to that. I also learned a lot more about how all the actors are connected to each other. The internship teached me how to look at how things really work within an organisation. I only regret that it was relatively difficult to arrange an internship.'
Do you think TRAIL, FGGA's new internship bank, will make it easier to arrange an internship?
'Yes, of course TRAIL will make it easier to find an internship. I think it is important that students find an internship company within their field. Now that the internships are all collected in one place, I think that already makes a difference. There are a lot of vacancies and students don't have to search for them themselves - that saves a lot of time. I had a lot of different documents to get signed and the internship procedure took a long time. If there is something that change that, I think more students would take up an internship.'
Would you recommend an internship to other students?
'Yes, especially so you can experience that not everything is as it is described in books. You learn what the roles within an organisation are, you get to know more people, you gain new insights and you visit new places. That makes an internship very enjoyable. For example, I went with Martijn van Helvert to a fairground demonstration and then stood next to him on a big bus while he gave a speech to the crowd. I would therefore recommend an internship to everyone at the faculty.'
Text: Abdelkarim Megaiz