Presentation Leiden research The Database of Business Ethics in Oxford
On Wednesday 7 June 2023, Dr Yvonne Erkens, Kate Verhoeff, Emma Snel, and Fleur Walravens of the Department of Labour Law in Leiden, gave a presentation on The Database of Business Ethics for the Oxford Business and Human Rights Network (OxBHR) at the University of Oxford.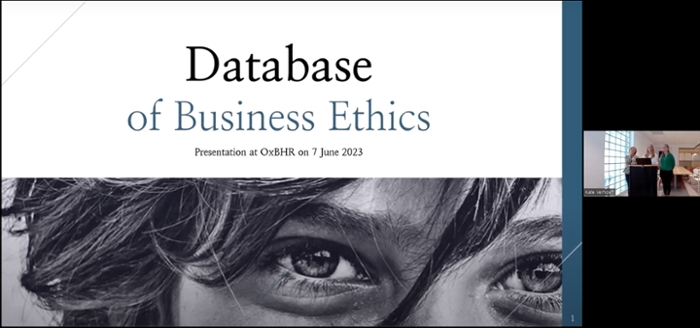 The meeting was organised by Fleur Walravens, who is currently studying at the University of Oxford. The other presenters joined online from Leiden Law School. Their presentation was about the project they are working on: The Database of Business Ethics.
This project, under the supervision of Dr Yvonne Erkens, gathers Codes of Conduct and Supplier Codes of Conduct from companies all around the world. These documents are then entered in a publicly accessible database, where they can be filtered based on their inclusion of fundamental labour rights. These rights have been formulated by the ILO (International Labour Organization), which began protecting labour rights 100 years ago and continues to the present day with its work.

After the presentation, a fruitful discussion ensued in which future possibilities for the use of the Database in both research and education were proposed.