Education, Social
The Student Desk is open!
Where can I register for this course? How do I apply for a semester abroad? Is my resumé good enough for job applications?
As student, you are faced with many different questions. For all these different questions, there are different experts at the Faculty to help you answer them. To make it just that bit easier for you, as a student, the Student Desk will open on 6 February. The one-stop-shop for all your questions.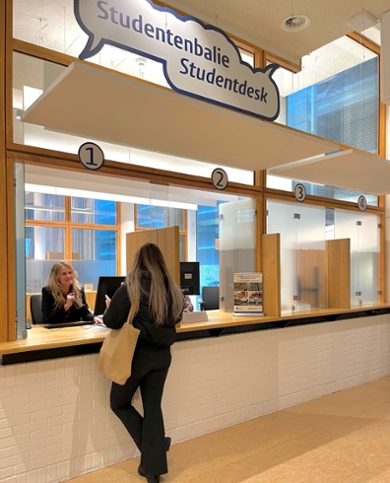 For whom?
All students are welcome with questions about student administration, well-being, but also career advice. It doesn't matter if you're a first-year or senior student, or if you speak Dutch or English. Someone will be able to help you.
Where?
The Student Desk is located on the ground floor of the KOG; take a right after passing the reception and walk straight on to the end of the corridor.
Can this information be found online?
You can, of course, also look things up yourself and a lot of information is available online. But sometimes it's nice to have someone to turn to. Someone who can help you and give you the information you need.
Opening Hours
| | | | | | |
| --- | --- | --- | --- | --- | --- |
| Who | Monday | Tuesday | Wednesday | Thursday | Friday |
| OIC (Education Information Centre) | 10:00-12:30 | 10:00-12:30 | 10:00-12:30 | 10:00-12:30 | 10:00-12:30 |
| BIO (Office International Education) | 10:00-11:00 | 10:00-11:00 | 10:00-11:00 | 10:00-11:00 | 10:00-11:00 |
| Career Advisor | 15:30-17:00 | - | - | - | - |
| Student Well-being | - | 12:00-14:00 | - | - | - |