Debate | Fireside Peace Chats
How to Work for Peace: A Dialogue with Dionysius Mintoff, the 'Father of Peace'
Date

Tuesday 21 March 2023

Time

Explanation

The event is followed by a reception from 19:00 until 20:00 hrs. Staff, students and externals are all welcome: you do not have to register for this event.

Address

Room

Floor 2 | Auditorium
Join us in hearing Fr Dionysius Mintoff from Malta on how to work for peace at the global level. Fr Mintoff will share his thoughts on how to address the key challenge faced by the world. He will announce the International Laboratory for Peace in The Hague that will focus on dialogue, education and practical solutions for peace.

In 2010 Fr Mintoff was awarded the inaugural FI Human Rights Award in Geneva, Switzerland and is a co-founder of Franciscans International. His Peace Lab was founded in Malta in 1971 with a mission for peace education. Today it also acts as a sanctuary for refugees and is a place of learning, inclusion, and acceptance regardless of personal beliefs.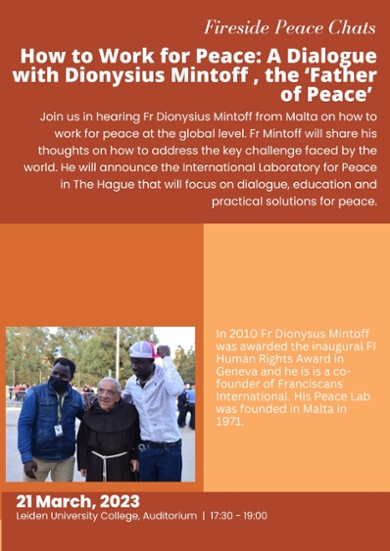 The programme for the evening:
Welcome Remarks by Robert Micallef, Lecturer Leiden University
Key Note Intervention
Fr Dionysius Mintoff, Founder of Peace Lab
Reflections and Q&A
Dr. Maja Vodopovic, Assistant Professor, Leiden University
Fireside Peace Chats series are informal, intimate chats with peacebuilders who have either lived in for an extended period of time or are from conflict-affected environments.