Leiden Classics: Humbert de Superville, founder of the Print Room
Dutch artist and visionary David Humbert de Superville (1770-1849) was the founder and first director of the Print Room at Leiden University. An exhibition and symposium are now being organised in his honour. What makes him so remarkable?
A generous gift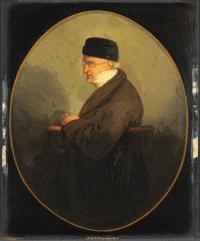 In 1814 Leiden University received an extremely generous gift: 21,000 prints and 800 drawings donated by the wealthy widow Johanna Louisa van Oldenbarneveldt. It was a wonderful present, but not something that could just simply be put on display. The Board of the University therefore looked around in its network for advice. The artist David Humbert de Superville, reader in Italian and French at the University, was suggested as the ideal person for the job.
First director of the Print Room
Humbert launched the idea of a Print Room to display the most exceptional works. The Board agreed and in 1825 founded the Print Room, appointing him as director. Humbert's own drawings are still part of the collection of the Print Room.
Versatile artist
Besides drawings, Humbert also made lithographs and etches, and painted portraits. He drew his inspiration from the art of antiquity, early Italian art, the Bible, mythology and in then little-known cultures such as India and Easter Island. He brought these and other sources together to create a personal mythology in which art, philosophy and religion went hand in hand.
Lion on the coast at Katwijk
As well as being a highly productive artist, Humbert was also an art theoretician. His fascination with the question of the relationship between art and society led to several utopian projects. One of these was his plan for a lion carved in stone, as large as the Sphinx of Egypt, on the coast of Katwijk. The project never materialised, but several preliminary studies have been preserved.
Misunderstood genius?
This failed project is not the only one.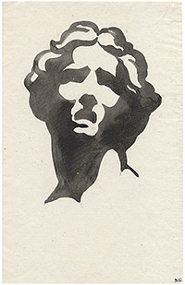 Humbert was very productive but museums showed little or no interest in his artworks. Were they right or not? You can judge for yourself by visiting the free exhibition in the University Library that sheds light on different aspects of Humbert's life and artistry.
The Print Room contains artworks from the sixteenth century up to and including contemporary works of art. The collection comprises some 12,000 drawings, 100,000 prints and 80,000 photos by important Dutch artists such as Goltzius and Rembrandt, as well as well-known foreign artists such as Canaletto and Dürer.