Jan Kolen new Artificial Intelligence Coordinator at Leiden University
The Executive Board of Leiden University has appointed Jan Kolen as the University's Artificial Intelligence (AI) Coordinator as of 1 February 2022. In this role Kolen will take the lead in regional and national cooperation relating to the topic of AI, data and digitalisation.
AI, data and digitalisation are increasingly essential to resolving major academic and societal issues. Leiden University conducts a great deal of disciplinary and interdisciplinary research in this field, into both the technology behind AI itself and the possibilities of applying it to all sorts of areas. Good coordination and cooperation, both within the University and with regional and national colleagues and partners is of great importance to further advancing Leiden's AI research.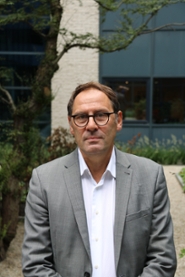 Within Leiden University, Jan Kolen is active in the SAILS programme, in which AI researchers from all seven faculties work together on human-centred AI. As AI Coordinator he will give further shape to and strengthen the connections with the region in the area of AI research and teaching. He will combine this role with that of Dean of the Faculty of Archaeology.
'AI will give a different direction to our future,' says Kolen. 'This is not only about scientific knowledge creation, but also about the public domain: our communication and security, healthcare and the legal system, our movements and spatial planning, and so on. Leiden University's interdisciplinary profile is indispensable to the use of AI in these domains, and the research into how our society can deal with this technological development.'
Kolen is taking over the role of AI Coordinator from Erwin Muller, Dean of the Faculty of Governance and Global Affairs and head of Campus The Hague. The Executive Board would like to thank Muller for his willingness to serve in this role in an interim capacity. Muller has made an important contribution to the cooperation with Delft and Rotterdam in the area of AI, and to developing an internal governance structure.