In conversation with Annetje Ottow and Hester Bijl: 'Decide what you want, and go for it'
What can we learn from female colleagues who are the first to hold top positions within the university? On International Women's Day, President of the Executive Board Annetje Ottow and Rector Magnificus Hester Bijl talked with a group of university staff from all levels within the organisation, and shared examples of challenges in their careers and how they handled them.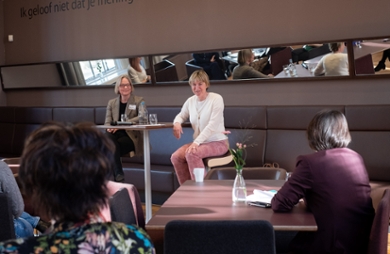 Ottow and Bijl were able to give several examples of situations that they as women came up against in their careers. Ottow worked for a firm of lawyers and Bijl at the TU Delft. As one of the few women in their environments, they each stood out, which was at times an advantage. On the other hand, they both also experienced that nobody thought of them when a position opened up as partner or manager. 'It wasn't deliberate,' Bijl said. 'But they simply didn't think of me because all the managers were men. That's why it's important to let people know what you want.' 'The people around you can't just see it in your face,' Ottow added. 'Decide what you want, and go for it.'
Combination
Bijl also faced some challenges. There were times when she felt unsure of herself because she compared herself with other people whom she felt were particularly good at their jobs. 'I compared myself with my professor, because he was fantastic at practising science. And in terms of leadership, I looked up to a manager that I thought was really good. But there came a time when I realised that maybe I am the best at a combination of the two.' That made it easier for her to take on the position of Rector Magnificus.
'Follow your own path and don't think you have to do the same as others.'
Buddies
Ottow faced a very different challenge. After the birth of her son she became ill, and she was unable to carry on with her busy job as partner in a law office. 'My father always said you have to have a plan B. For me that was writing a PhD dissertation. Finding a different route in your life helps you become more independent. Follow your own path, and don't think you have to do the same as others.'
Her plan B meant that Ottow had to prove herself again. Because she came from a law office to the university, she was often accused of being 'practical' rather than 'academic'. So she sought out those people who did believe in her. 'Find your buddies,' she advised the audience. They were in complete agreement. Praise each other,' someone in the room commented. 'Tell one another how good you are.'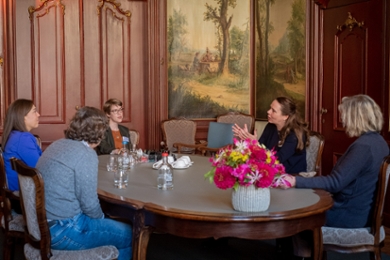 Personal experiences
After the plenary session, the meeting participants talked in small groups about their careers at the university, their personal experiences and approach, and exchanged thoughts on issues such as leadership and career, taking care of yourself and empowerment. Many issues were raised where the women felt there was room for improvement: bias in language use, the combination of an academic career and having children, and the lack of women as managers within the university. 'We aren't there yet,' Bijl concluded.
After two years of working online, this was a unique moment to meet and connect with one another. If you are interested in the work of women's networks at the university, you can get in touch with one of the networks (see right-hand side of this page). If you have a question about diversity and inclusiveness, please contact the D&I Expertise Ofice.
Moderator Cristiana Strava.

Participants in conversation about personal experiences.

Annetje Ottow.
Text: Dagmar Aarts
Photos: Lina De Ros Rios Torres