Looking ahead to the next ten years at LDE anniversary celebration
The Leiden-Delft-Erasmus Universities strategic alliance celebrates its tenth anniversary in 2022. At the 'The Next Ten Years' anniversary celebration in the Faculty Club on 12 April, the partners looked back on their achievements and ahead to the major social challenges of the next ten years.
Leiden University, Delft University of Technology and Erasmus University Rotterdam started the LDE partnership in 2012. In the past ten years, various centres and programmes have been set up within the LDE framework, in which researchers take an interdisciplinary approach to societal issues. In addition, new LDE minors are added each year that are open to students from the three universities.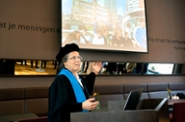 This year, the presidency of LDE will pass on to Annetje Ottow, President of the Executive Board. This means that the presidency, which rotates every three years, is back at Leiden University. During the celebration, Ottow looked back on ten years of LDE: 'As LDE, our focus on interdisciplinary cooperation put us ahead of the game. We have achieved great results, for example with the three new LDE-minors, the PortCityFutures programme and the Thesis Workshop The Hague Southwest. That is something to be proud of.'
Dual appointment
During the alliance's tenth-anniversary celebrations, Carola Hein was the first LDE professor to receive a 'dual appointment'. She is affiliated with the Leiden Institute of Cultural Anthropology and Developmental Sociology, in addition to her appointments at Delft University of Technology and Erasmus University. Hein is the initiator of PortCityFutures, a programme that focuses on using interdisciplinary methods to connect port cities and their surrounding regions.
Sustainability competition
Students from the LDE Centre for Sustainability were there to present their anniversary art project. They are organising an art competition that focuses on sustainability over the next ten years. To launch the project The Next Ten Years in Sustainability, the students presented Ottow with a symbolic gift - a terrarium.
Photos: Marc de Haan