Lights out, stars on: Daan Roosegaarde on Seeing Stars Leiden
'What if we switch off all the lights one evening? That idea crossed my mind from time to time. And when I mentioned it to a taxi driver one day, he said: "Oh, you mean: lights out, stars on!" That's not completely true, of course, because the stars are always on, but his phrase summed up the idea nicely.'
'The idea began to take shape during the pandemic,' says artist and inventor Daan Roosegaarde. 'We were living in isolation and I was looking for a way to make the world bigger, to bring us all together. Looking at the stars is one such way.'
Last year, Franeker was the first city where Studio Roosegaarde, as his design studio is called, turned off the lights. After an appeal by TV presenter Beau in his eponymous TV show, more cities signed up. 'Leiden responded very warmly, thanks in part to UNESCO's enthusiasm and the fact that Leiden is European City of Science in 2022,' says Roosegaarde.
Seeing Stars is a good fit for not only Leiden, where leading astronomers like Ewine van Dishoeck conduct research and teach students, but also Roosegaarde. He develops projects in which art and technology come together: 'technopoetry' as he calls it himself. The 'Van Gogh bicycle path' in North Brabant, inspired by Van Gogh's Starry Night, is one of his most famous artworks. It is lit by thousands of twinkling stones.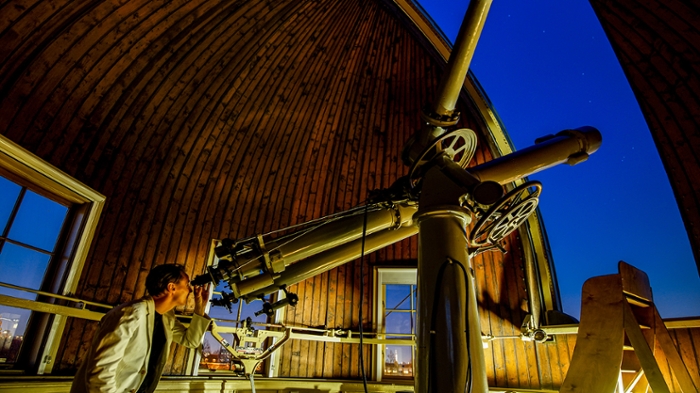 Why should we look at the stars?
'Stars are so much bigger than us. There is a beautiful light performance going on right above our heads. But light pollution is high; 80 per cent of the world's population doesn't see the stars. We want "stargazing" to be added to the UNESCO World Heritage list. It's one of the easiest pollutants to solve – Seeing Stars is one switch away.
'A story has it that Oort [a famous Leiden astronomer, 1900-1992] also wanted to switch off the lights in Leiden to make it easier to see the stars from his Old Observatory Leiden. There was even supposed to have been a light switch from that time that would turn off all the lights at once. We're looking into that now. Exciting isn't it?'
That sounds almost too easy.
'Well, it's not that easy. But we have switched the lights off once before, in Franeker. It will be a bit more difficult in Leiden. In Leiden, city of art and science, teaching and research play a significant part. For instance, in the weeks leading up to Seeing Stars Leiden, a large mobile planetarium will visit primary schools. Children will be able to lie down in it and look at a simulated starry sky, so they can learn in advance what they'll see on 25 September.'
The Seeing Stars project was previously carried out in Franeker

Stargazing was easy in a dark Franeker
What does it take to turn off a city's lights?
'It takes a lot to switch off all the lights. We hope everyone will join in: the residents of course but also shopkeepers. And we're calling on all housing associations, for instance, to switch off their main lights for an hour and a half. The organisers are busy reaching out and mobilising people. We had a successful test run at the end of August where all the street lights were switched off. We already saw loads more stars than usual. If everyone joins in and turns off their own lights, this will only be more!'
What can we do about light pollution?
'A designer is usually asked to add something but I'm only taking something away here. Obviously light is necessary but there's a lot of bullshit light, light that makes me think: why? And no one knows the answer.
'We have to learn to deal with scarcity. There used to be an abundance, of everything, but those days are over. See for yourself: we were promised abundance and then everything would be fine. But things aren't fine. Energy is incredibly expensive. The chips I need for my projects have run out. We have to look for a new harmony with nature. And the good thing about Seeing Stars is that by taking away we get more.
'Delegations from cities like Stockholm, Venice and Reykjavík are coming to Leiden on 25 September to see how it goes' – Daan Roosegaarde
'And we're not the only ones. A movement has started. Take the global Dark Sky Association, which has been fighting light pollution since 1988, or Earth Hour, where people all around the world switch off their lights for an hour. Several other cities are interested in Seeing Stars: delegations from cities like Stockholm, Venice and Reykjavík are coming to Leiden on 25 September to see how it goes.'
What will it achieve?
'We don't know what we're going to see but we're going to explore this together. How will we look at the stars in 15 years' time? What will a lamppost look like then? Will it have a shade on top so that the light only shines downwards, thus reducing light pollution? Will billboards be turned off after midnight? Should the lights at all those closed petrol stations stay on? These are just a few examples. September 25 is just one day. But what about the other days?'
Speaking of which: What if it's cloudy on 25 September?
'We've got a few alternative dates up our sleeves. Because the stars aren't a theme park where you throw a euro in and get what you want.' See seeingstarsleiden.nl to find out whether 25 September will go ahead and if not, when instead.
Text: Leiden City of Science special, published by Leiden&Partners
Photos of Daan Roosegaarde: Dirk van Egmond
Other photos: Studio Roosegaarde