Nalani Verwoord new assessor Leiden Science
Ava Bauer's successor has been announced. From September 2023, Nalani Verwoord will be the new assessor of Leiden Science. Nalani is a third-year Biology student.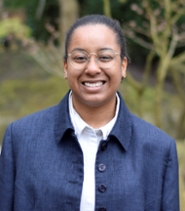 After the summer break, it is Nalani who will represent the students in the faculty board. And that's exactly why she wanted to become an assessor. 'I think it's important to make students' voices heard in main decisions of our faculty. Sustainability and student welfare are crucial issues to me in this regard.'
Disposable plastics and dining facilities are on Nalani's agenda
Nalani hopes to learn a lot as assessor and has firm ambitions. 'I hope to contribute to reducing disposable plastic within our faculty. Also, opening hours and restaurant offerings in the new Gorlaeus Building are important to students.'
Nalani has been appointed for one year. She will tell you more about her work and ambitions as an assessor in the video below.