Throwback to the start of the Faculty academic year: murals, puzzles, and sweets
On Tuesday the 5th of September the Faculty of Archaeology officially opened its academic year. All staff and students were invited to this festive occasion.
A toast
Dean Jan Kolen kicked off the event, both reflecting back on the Faculty's milestones in the past year as well as looking forwards to the expected developments in the coming one. He welcomed the new Archaeology students and proposed a toast with alcohol-free champagne on a successful new academic year.
New murals
Next up was Eric Dullaart who presented the new stratigraphy murals that were painted on the walls of the Reuvens Hall. The wall paintings reflect a variety of Dutch soil stratigraphies, from Oss to burial mounds. Aside from being a striking new addition to our Faculty building, the murals will also serve a purpose in education. Eric Dullaart showed this by rolling out a drawn-on sheet of wallpaper, which was formerly used by students to study stratigraphy. The murals both lift up the Reuvens Hall, as well as improve the options to let students study stratigraphy.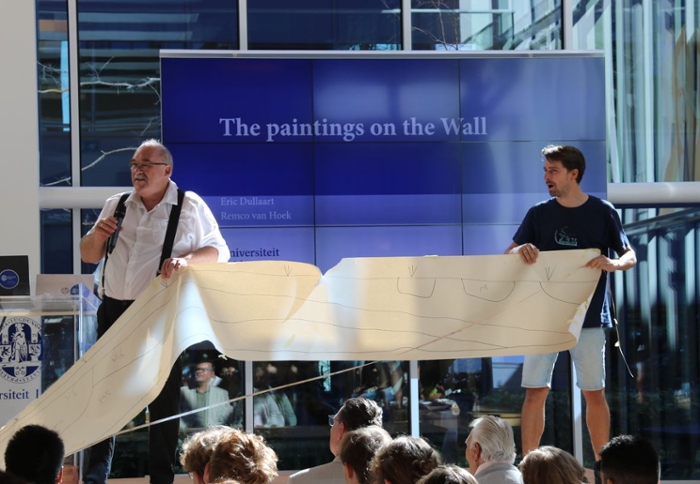 Subsequently, the mural's art painter, Remco van Hoek, addressed the audience, expressing his enthusiasm for this project and explaining that he had learned a lot from the archaeologists as well.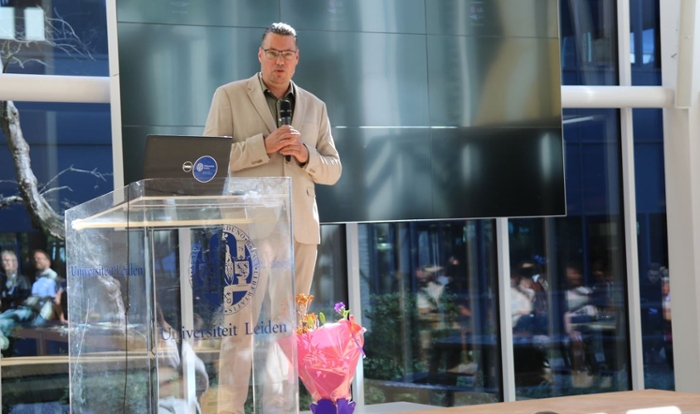 Puzzles and hoodies
Finally Arthur van Geel walked the audience through the clever puzzles he made. The final answer was a cow's jaw that featured in one of the murals. A raffle of the contestants brought Dr Alex Brandsen the winning prize: a new Faculty hoodie. Do you want one as well? Order one before October 4!
Time for the sweets
When all the talking was done, it was time for the sweets! The attendees could enjoy a wide variety of small pies.