Help us prevent student burnout!
We are looking for students who are 16 years or older and are studying at a Dutch mbo, hbo or university. Our aim is to gain insight into the needs and perceptions of students regarding stress and burnout. In short, we aim to carefully listen to the students' needs: how can we help you? 
About burn-out
In 2019, research of the Interstedelijk Studenten Overleg (ISO) shows that 57% of students suffer an unhealthy level of stress. Factors such as academic pressure, mutual competition, lack of social support, and learning difficulties contribute to an increase in burnout complaints among students. Academic burnout is an increasing mental health issue worldwide, but little is known about students' needs and perceptions regarding this.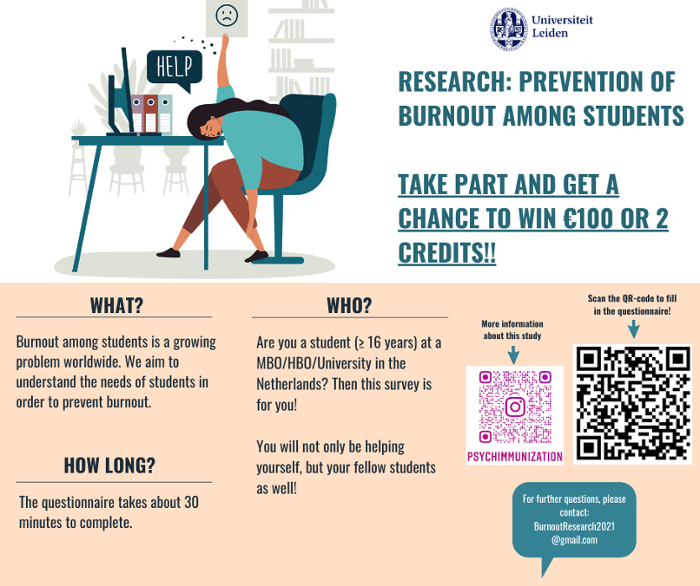 What does the study entail?
We investigate what students perceive as causes of stress and burnout and what their needs and attitudes are regarding the prevention of burnout.
Who can participate?
We are looking for students 16 and above who are part of a Dutch mbo, hbo, or university. Both Dutch as well as international students, including exchange students, with and without learning difficulties are welcome to participate.
How can you help?
You help us by filling in our questionnaire if you are a student. The questionnaire takes approximately 30 minutes to fill in, and participating students have a chance to win €100,- (based on a raffle). Leiden University students can receive 2 credits by filling in their student email at the end of the questionnaire.
Share the questionnaire with your fellow students and check out our @psychimmunization Instagram and Facebook accounts! It would be helpful if you could share our content and/or follow us!
Questions?
If you have any questions or comments about our research, you can contact one of the principal investigators of this study:
• Klodiana-Daphne Tona
• Philip Spinhoven