Sustainability Day: Billie Cup launch
On 10 October, Sustainability Day, the 'Billie Cup' pre-pilot at Leiden Law School got off to a good start. Among those present were 'plastic soup surfer' Merijn Tinga, Bart Hemmes of the Leiden University Green Office (LUGO), and Esther Kentin, Lecturer at the Institute of Interdisciplinary Study of the Law & Project leader Leiden Advocacy Project on plastic (LAPP). The first reusable cup was presented to Dean Joanne van der Leun.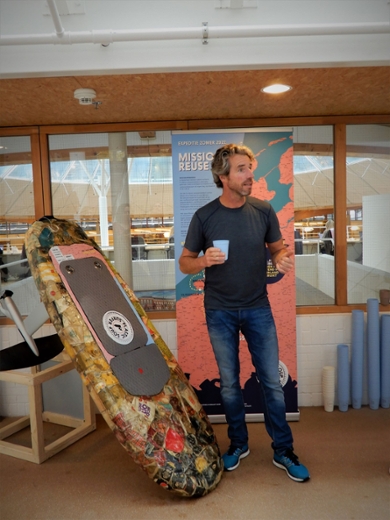 5 million single use cups
The Billie Cup is an initiative of Merijn Tinga, the Plastic Soup Surfer, who together with Esther Kentin, is working towards a transition to a reusable cup system. Merijn has been working to promote his Mission Reuse Expedition for some time now: 'Every morning, 5 million single-use cups are being used in the Netherlands. Afterwards, they end up in the incinerator or, even worse, on the streets or in nature.'
If you put those 5 million single-use cups in a row, you end up with a line 385 kilometres long. That's the distance I travelled on a surfboard made of used plastics in July. From Brussels to Amsterdam. With this Mission Reuse Expedition, I'm campaigning in favour of reusable cups and against single-use cups. We want this at events, festivals, on the streets and large organisations to start with.'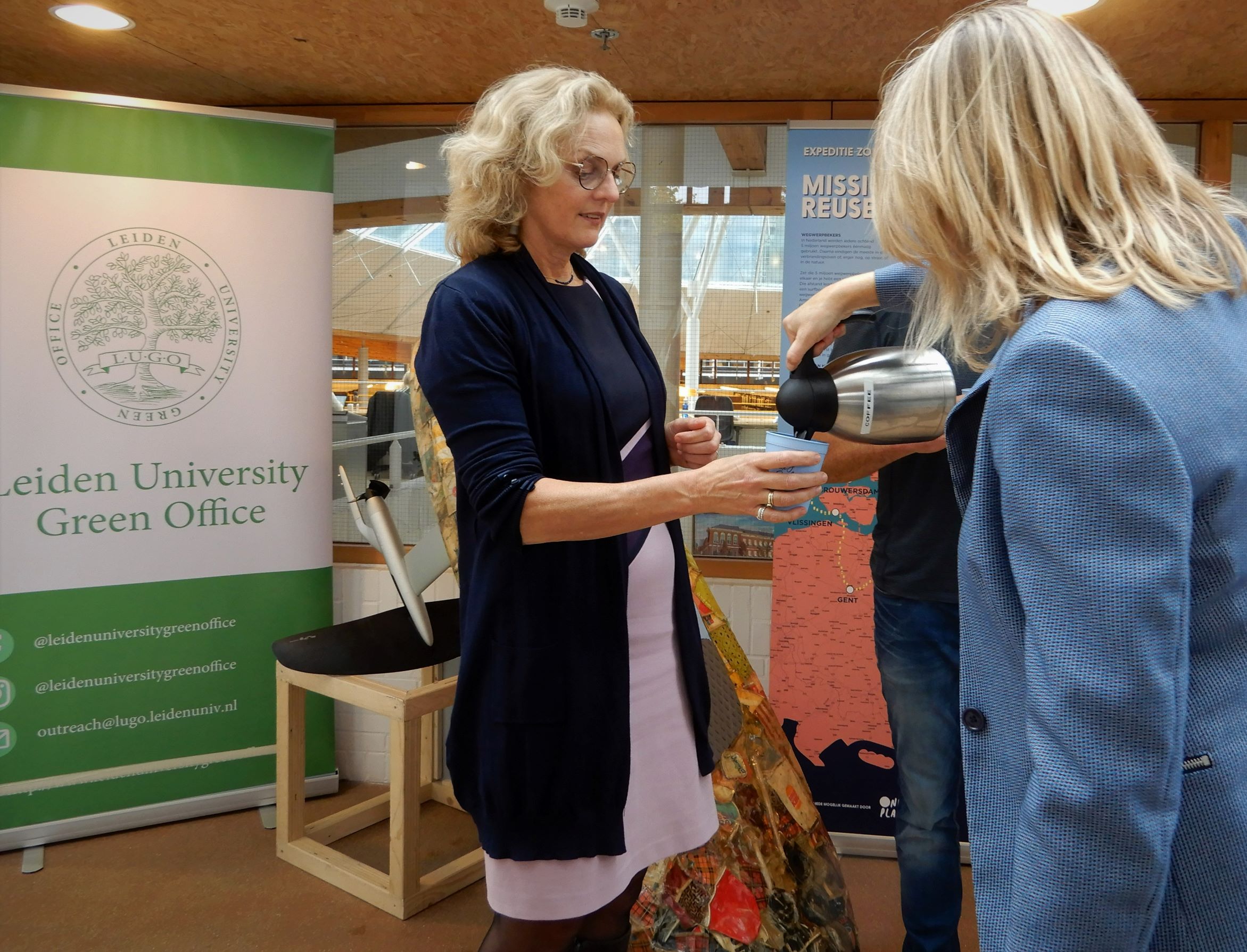 Joanne van der Leun: 'I want to thank Merijn, Esther, and Bart for this pilot and their perseverance. I'm committed to avoiding plastics. I try to provide my guests with proper cups, because if I don't set a good example, it means nothing will happen. As far as I'm concerned, we 'll be completely transferring to reusable cups. So, please sign the petition!'
Billiecup
The first step is the introduction of the Billie Cup at our JuCa. You can buy a blue Billie Cup for one euro when ordering your coffee or tea at the counter. After you finish your coffee, you can return your Billie Cup in exchange for a clean Billie or a Billie coin. With this coin you will receive a clean Billie Cup the next time you order a drink. That way, your euro keeps rolling and you're helping to reuse the cups.
| | |
| --- | --- |
| Event | Pre-pilot |
| Target date | 01-11-2022 to 03-03-2023 |
| Locations | Juridisch Café KOG |
| Purchase | Billie Cup (1 euro), only for beverage |
| On return | Clean Billie or Billie coin |
| Vending machines | Not applicable |
Petition
The pre-pilot will run alongside single-use cups. But the aim is, of course, to ban single-use cups completely. Bart Hemmes of LUGO introduced a petition for the use of reusable cups at Leiden University. We call on everyone to sign the petition. With your voice, we will give students and employees of Leiden University a good reason to make the change to reusable cups.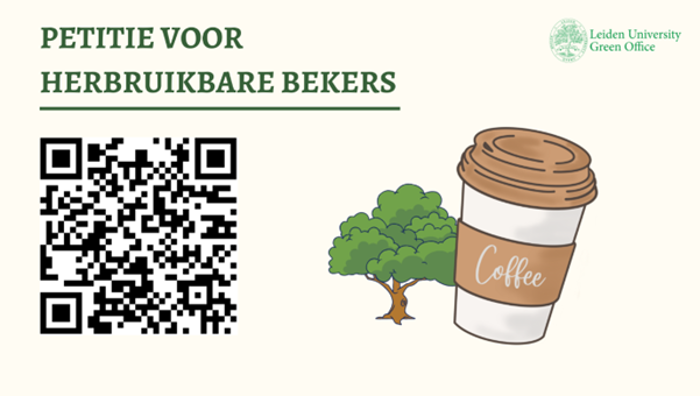 By signing the petition, you are in favour of:
Only using reusable cups in the restaurants and cafés;

Only using reusable cups at vending machines;

A deposit system for reusable cups;

Completely phasing out single-use cups from all our Campuses;

Accomplishing the changes mentioned above on or before 1 July 2023.