Shadow Game Screening with film maker Els van Driel
On 10 March students of the advanced master's in International Children's Rights and the Dutch Child Law master's watched the documentary Shadow Game with filmmaker Els van Driel.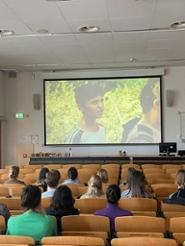 Shadow Game is a coming-of-age story, an adventurous journey through Europe with teenage refugees as our guides. The teenagers have fled their war-torn countries and try to cross Europe's borders in search of protection and a better life. The images were partly filmed by the teenagers themselves - on their phones, travelling through Europe, as if they were the directors themselves.
Shadow Game does not stand alone, but is part of a transmedial project that, in addition to the documentary, contains short films that delve deeper into the experiences of a number of boys. Els van Driel, the director of the film was present to give more information on the film and to answer questions from students. The film is penetrating and makes a big impression - a film that everyone should see! More information can be found via https://lnkd.in/eNNj8iZJ